by Stephanie Cockroft
With glam Kate Middleton raising the stakes for pregnant women everywhere, salons report a 10 per cent rise in women indulging in pre-birth treatments. Three readers reveal how they prepped for those first post-birth snaps
'I spent £1,705 on my perfect labour look'
Before Sarah Hadfield, 31, could even think about having a baby, there was one important thing she needed to tick off the list.
The part-time marketing executive from London booked into a Harley Street clinic for six rounds of £1,500 GentleLaser hair removal treatment – a whole year before she and husband Ben, 38, started trying.
'You can't get laser treatment done when you're pregnant and I knew it'd be awkward to shave and wax around a bump,' says Sarah. 'So I booked to have it done on my bikini line and lower legs in January 2009. It took nine months but was completely worth it.'
Once Sarah fell pregnant, she began thinking of her birthing beauty regime. Two days before her due date, she had a £40 spray tan, £90 highlights in her hair and a £75 manicure and pedicure.
'I wanted photos of me with my newborn baby that I was happy to look at, not where I looked a horrendous mess!' she says. 'I suppose there was also an element of wanting to feel in control of a situation I had no control over, too.'
On 4 August 2010, Sarah headed to hospital with six meticulously packed and labelled bags in tow: 'The midwife joked that they'd need to call a porter for all my things! But this way I'd know where everything was from my eight-hour cream to the baby's new clothes.
'I had a post-birth bag, a make-up bag, a clothes bag, a bag for the baby's newborn clothes, a bag for my own pillow and a bag for during the labour, carrying my rescue remedy and water spray.'
An hour after giving birth, Sarah posed for this photo (right) with son Zachary.
She says: 'I'd managed to brush and tie my hair back and slap on some mascara as I wanted to look decent for my first picture on Facebook. That's the one everyone wants to see.'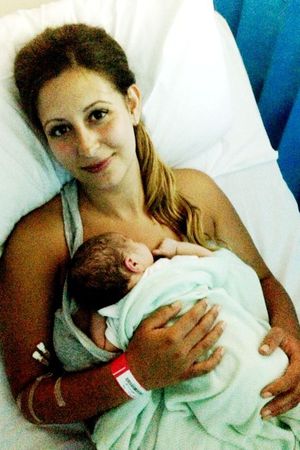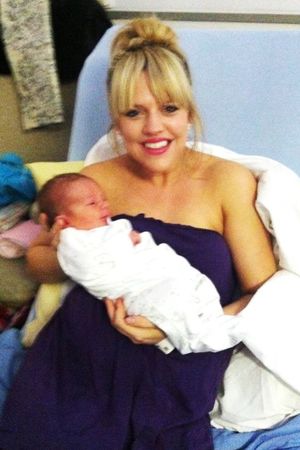 'I felt pressure to look as good as Kate'
Fashion merchandiser Frances Beecroft isn't usually one for beauty treatments. But wanting to look back proudly on her post-birth photos, the 25-year-old from Essex spent £65 on eyebrow treatments, eyelash extensions and a pedicure a week-and-a-half before her due date.
'I knew the last thing I'd have time for with a newborn baby was putting on a faceful of make-up, so I invested in some pre-birth pampering so I could still be confident that I looked good afterwards,' says Frances. 'I also spent every second of my spare time before giving birth in my garden, topping up my tan. Everyone looks better with colour on their cheeks!
'I was due around the same time at Kate Middleton. There was so much focus on how amazing she looked, I felt the added pressure too.'
Frances knew the crucial first photo with her daughter Isabelle, who was born on 6 July, would show her hands in close-up detail. With this in mind, the expectant mum filed, buffed, polished and painted her nails in a neutral colour.
'That way, if they chipped during birth, you'd never know,' she says. 'I topped them up every day right up until I went into labour. I wasn't going to get caught out with chipped red varnish in my baby's first snaps.'
After the birth, Frances re-did her hair into a stylish side ponytail before her husband Ben, 30, took a photo of her with Isabelle. 'I didn't post it online as I'm not really one for "selfies", but I sent it to my mum, who passed it on to all her friends,' Frances says.
'She told me after that everyone was saying: "The picture looks like it's a model." I agreed with her – Isabelle was gorgeous. But Mum said they meant me!'
'I styled my hair between contractions'
If there's one thing Anna Poultney, 29, knows it's how to look glam. So it's no surprise that the beauty therapist from Leicestershire went all out to look perfect when giving birth to her first baby, Bernie, on 20 January.
'Pregnancy isn't a reason to start looking bad,' says Anna. 'Every morning while I was carrying Bernie, I'd do my hair and make-up. I even carried on going to the gym until
40 weeks. Everyone kept telling me I looked fab.'
One week before she was due, Anna had £300 worth of treatments at her salon – a pedicure, a manicure, a bikini wax, fake tan and false eyelashes.
When she went into labour, she set to work finalising her look, even styling her hair in a glam topknot in-between contractions: 'Most women might be freaking out by that point, but I was still tying a big barrel curl bun in my hair when I was 5cm dilated!' laughs Anna.
Opting for a water birth, she carefully selected a black tankini top, a black waterproof skirt and pearl earrings for labour. And she packed a purple dress – the colour that flatters her most – for a quick post-baby wardrobe change.
'I'd chosen my outfit 20 weeks into my pregnancy and tried it on a few times throughout to check it still fitted,' Anna explains. 'I had a difficult birth but I honestly think looking the part helped me stay calm and positive.'
Topknot still intact, Anna freshened up her make-up 20 minutes after Bernie was born for their first picture together. She says: 'My husband Ben told me I looked fine but I couldn't resist.'
Within minutes of it appearing on Facebook, her friends were commenting on how well she looked: 'I couldn't beat Kate Middleton – she looked amazing in her first pictures – but I'm so pleased with how I looked too.'
Bikini waxes and manicures for labour - over the top or just good sense? How did you prepare for labour? Let us know your thoughts below!