The birth of His Royal Highness Prince George of Cambridge this week was greeted with cheers from around the world… except, perhaps, in the headquarters of one company in Dorset.
Kate and William hadn't publicly confirmed the gender of their child ahead of the birth. In fact, they didn't even know until
George Alexander Louis arrived at 4.24pm on Monday, 22 July
… but apparently one British firm decided to act on a tip off from a royal insider that the baby would be a girl and start producing memorabilia.
The result was 5,000 commissioned plates welcoming the new princess to the world. Oh dear.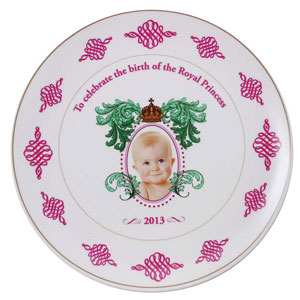 They can't even recycle them in the event of the Duke and Duchess of Cambridge having a baby girl in the future because each plate is stamped with the year, 2013.
All is not lost, however, as
www.wholesaleclearance.co.uk
bought the company's entire stock and is selling it for £2.98 each or £149 for a stack of 50.
But who would want one? Well, the firm has pitched a few ideas including buying as "the worst Secret Santa present ever" or "having a plate smashing contest". They've even described the plates as "a piece of inaccurate history".
At least someone has a sense of humour about it!
HRH Prince George of Cambridge's first photocall - pictures
Copyright: WENN