Manly Mr Darcy emerging from the water, dripping wet in a tight white shirt. Ahh, we remember it well!
Well, it's 18 years on and the iconic
Pride and Prejudice
scene still hasn't been topped - as it has taken first place in a poll of Britain's most memorable TV moments.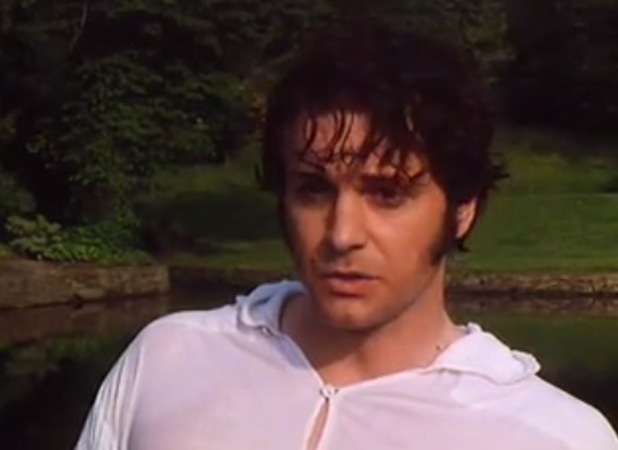 In second place,
EastEnders
swooped in with its most unforgettable Christmas episode, when 30 million viewers tuned in to watch Dirty Den hand wife Angie divorce papers in the 1986 episode.
Other top ten moments include Sherlock's faked death in the 2012 adaptation of
Sherlock
, and British TV's very first lesbian kiss in the 1994 episode of
Brookside
.
Commissioned by UKTV, the poll marks the launch of their new channel. Manager Adrian Wills said: "Our top ten encapsulates al the very best facets of television drama – the shocking, the scary, the funny and the sexy."
Most Memorable TV Drama Moments
1 Mr Darcy's lake scene
Pride and Prejudice (1995)
2 Dirty Den hands divorce papers to Angie
Eastenders (1986)
3 Sherlock's 'death'
Sherlock (2012)
4 The tram crash
Coronation Street (2010)
5 Who killed Danny Latimer?
Broadchurch (2013)
6 The tenth Doctor regenerates from David Tennant to Matt Smith
Doctor Who (2010)
7 First Lesbian Kiss
Brookside (1994)
8 Morse reveals his first name
Inspector Morse (1997)
9 Zammo injects heroin
Grange Hill (1987)
10 Lady Sybil's death
Downton Abbey (2012)
By Faye Waterfield
What's your most memorable TV moment? Tell us below, as the best comment from across the website each week wins £50!