A man was left almost housebound and unable to walk, drive or even wear trousers after his testicle sac swelled up to a staggering 10-stone.
Wesley Warren Jr, 49, suffered from an extremely rare condition called scrotal lymphoedema after accidentally crushing his testicles while standing up.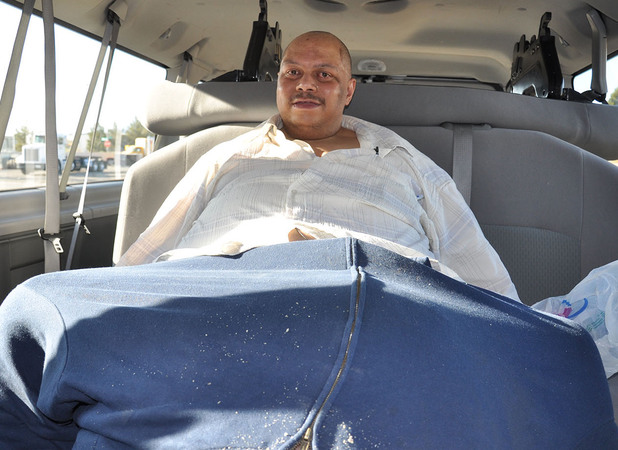 At first, his doctor gave him antibiotics but instead of the swelling going down, the area ballooned.
After five years, it was so big, he had to wear a hoodie, instead of normal trousers, on his bottom half.
Warren, as he prefers to be known, from Las Vegas, Nevada, said: "I draw attention wherever I go.
"There are a lot of people that will look and laugh and stare in shock and awe and amazement that it's tough to deal with.
"I miss just doing simple things such as going to the post office and shopping in the supermarket. It's almost like being in prison. I don't know how much longer I have to to live with this testicle sac continuing to grow."
Tonight's Channel 4 Bodyshock Special, follows Warren as he undergoes corrective surgery that came about when a consultant in California, Dr Joel Gelman, heard about his ordeal and offered to the do the operation for free.
They removed 132.5lbs of tissue during the 13-hour op and reconstructed his genitals.
Warren said: "I cannot express how ecstatic I'm feeling about the future.
"And if someway, somehow or another, I can stumble upon love - any kind of love - I think I will finally be happy. I'm very thankful I've been given my life back."
The Man With The 10-stone Testicles" A Bodyshock Special will be shown on Channel 4 at 9pm on Monday 24 June