At 11st 4lbs, Mizzy has decided enough is enough - she wants to slim down and get her figure back.
But Mizzy is in fact a five-year-old bullmastiff - not a woman.
And she is the biggest pet to ever join Pet Fit Club, animal charity PDSA's national slimming competition.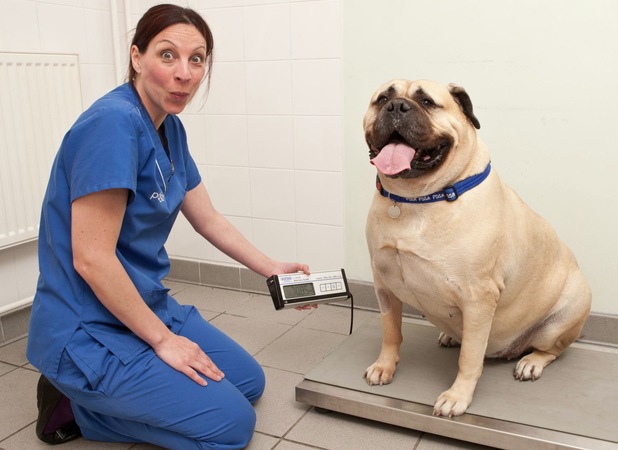 She is so big, her collar even fits around the waist of Sue Bartlett, the PDSA vet nurse now in charge of Mizzy's strict diet.
Owner Cheryl Pendley said: "We got Mizzy when she was a year old and she has always been a big girl, but wasn't overweight. Then in early 2011 she needed emergency surgery. This and some other health problems severely restricted her mobility and she just piled on the pounds in just six months. She isn't given any naughty treats at all, just dental sticks.
"I knew she had gained weight but simply didn't realise how overweight she had become. She used to love long walks so I didn't think anything of giving her big helpings then, but I should have adjusted her food when her activity levels decreased.
"When the vet explained the problems her extra weight was causing her I wanted to do everything I can to help her. I couldn't bear to lose such an adorable dog to something preventable, so I entered her into PDSA's Pet Fit Club."
Thankfully, Mizzy isn't on her own - she's just one 21 dogs, cats and rabbits who are hoping to get into barking good shape!
Sue Bartlett said: "We're confident that Mizzy will have a slim-line figure and new lease of life by the end of the competition."
Stick at it Mizzy!