Gemma Holmes, 26, had no idea she was expecting before she was involved in a car crash that left her unconscious for three months
'Discovering you're pregnant is meant to be one of the most exciting times in a woman's life. But when I found out, a doctor gently broke the news to me as I woke up after almost three months in a coma.
I can't describe how it felt to hear those words. For a start, I had no idea how I ended up in hospital, let alone how I had fallen pregnant – or by whom.
Suffering from amnesia, I'd lost all memory of the last three years of my life. The royal wedding, the Olympic Games and the London riots – all gone.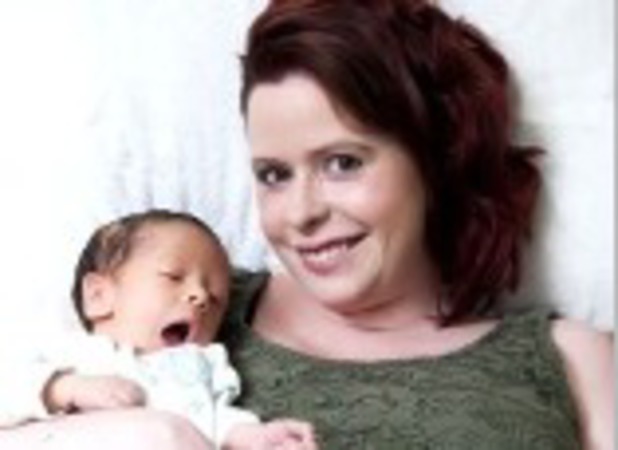 But more worryingly, it also meant I had no recollection of Luke, the father of my unborn baby, or the argument we'd had that had led to our falling out.
The last thing I could recall was getting on my moped on Saturday 8 September last year and setting off from my home in Hilperton, Wiltshire, for my shift as a care worker.
Later I was told I'd collided with a parked car. My sister, Michelle, had found me lying unconscious in the road and watched as emergency services tried to resuscitate me.
I was airlifted to Frenchay Hospital in Bristol in a coma, having sustained severe head and neck injuries. My family were told I wouldn't make it.
But the most staggering thing of all was to be told I had a little life growing inside me. I hadn't missed a period before the crash, so I'd had no idea.
A week after the accident, doctors told my mum Julie that I wouldn't be able to have vital surgery on my back because I was around four weeks pregnant.
The nurses and my family and friends were told to repeat that I'd been in an accident, was in hospital and was pregnant, to prevent me from being shocked when I woke up from the coma.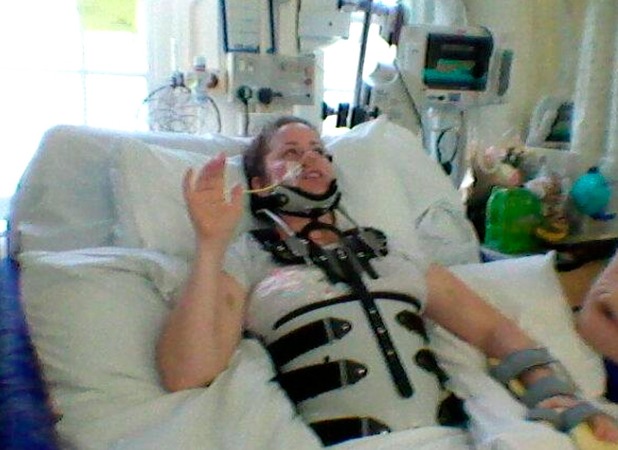 Even when I did start to come round, my progress was gradual. I could only open one eye at first, then two, then blow kisses to communicate. But I couldn't seem to find my voice.
I couldn't take in everything I was being told. I was nearly four months gone by the time it sank in – I was going to be a mum!
When I could finally utter my first words, I asked the doctor how I had got pregnant. "There's only one way it could have happened," he joked.
I was told I could have a termination if I wanted, but now my baby was tucked up inside me, I couldn't. It would be difficult – I could barely look after myself, and walking was impossible. But I couldn't help thinking this baby had come to me – out of the blue – for a reason.
After four months, I was finally allowed home and my pregnancy began to show.
I couldn't remember anything about my baby's conception and there was only one person who could help. So I decided to tell Luke about the baby. He was just as shocked but vowed to be involved.
With my surgery on hold, I could only have limited physiotherapy and had to remain in a wheelchair for the final five months of my pregnancy. To ease pressure on my back, I was induced on 2 May 2013, two weeks before my due date, and gave birth via Caesarean to a healthy little boy. Weighing 5lb 15oz, I named him Rueben Miracle William Holmes.
Doctors are giving me six months to breastfeed and bond with Rueben before they operate again. They've warned me that they will have to break my back again and put metal plates in, but if it means I'll be able to play with Rueben, it will be worth the agony.
Rueben is the best thing to ever happen to me. I may not remember how he came to me but I've got the rest of our lives to make up for that.'
By Harriet Rose-Gale
Read more:
What makes the perfect shopping day for you?
Read more:
Brit wins £81m - and becomes richer than Harry Potter and Adele!