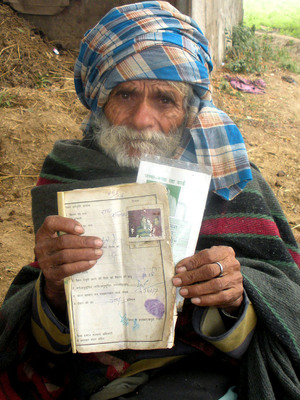 Most 90-somethings are relaxing at that time of life – enjoying their great- (or even great-great) grandchildren.
Not 96-year-old
Ramjeet Raghav
. Last month he broke his own record of being the world's oldest father when his wife, Shakuntala, gave birth to his second son, Ranjit – his elder boy, Karamjit, was only two.
Shakuntala, thought to be 60, gave birth to the healthy boy, he said the doctors were "very surprised" when they discovered he was the father.
But his neighbours weren't.
Ramjeet said, "I do it three or four times a night. My neighbours are jealous and they keep asking me for my secret but all I tell them is that it is God's will. I'm healthy and I enjoy sex with my wife. I think it's very important for a husband and wife to have sex regularly and when she asks I will go on all night."
Ramjeet and Shakuntala met 22 years ago at a Muslim shrine. He asked her to come home with him and she has never left.
Shakuntala said, "He doesn't seem old to me, he can make love like any 25-year-old man, even better because he can go on all night, and he makes a wonderful father."
But the pair have ruled out having any more children. "I have asked my wife to be sterilised now. I don't want any more children, we can't afford it."
Read more:
Kids say the funniest things!
Read more:
£6,000 to rescue a cat - then it ran away!