by Andrea Leebody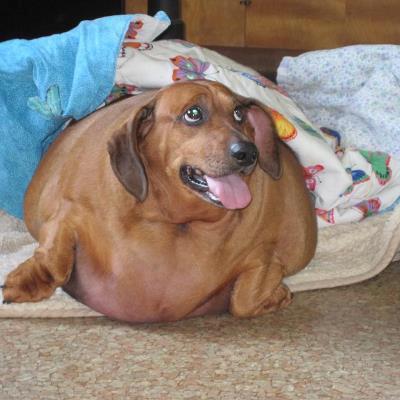 Poor Obie the Dachshund looks miserable, and no wonder – the obese pooch is on a starvation diet after ballooning to over twice his size.
The five-year-old fatty was overfed by his previous elderly owners who just "couldn't say no to his big brown eyes".
The podgy pup, who weights 5 ½ st, has gobbled so many treats that he's now unable to walk.
An appeal to find a new owner for Obie was launched last month when his previous owners realised they could no longer care for him. Animal lover, Nora Vanetta, from Portland, Oregon, volunteered to take him on.
She's overseeing his strict diet and hydrotherapy exercise to help him shed over 2 and a half stone - the maximum this breed normally weighs.
"He is extremely sweet and loving. He was obviously loved and is a joy to work with," Nora says.
"I feel tremendously blessed to be involved in his rehabilitation and I am amazed at the outpouring of love and support that I have received.
"My hope is that he can be an inspiration to any person or animal trying to lose weight."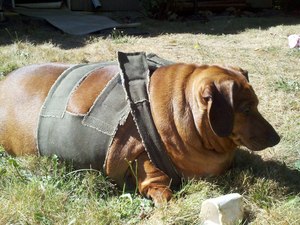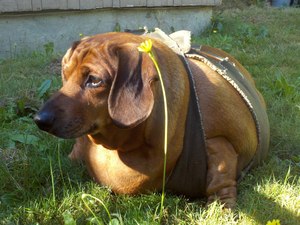 For more on Obie visit his
Facebook page
Read more Yours Truly: Real Life stories
Gypsy Mums Travellin' Rose hit the US charts!
Mum shaves numbers in kids' hair to tell them apart
Jodi Field advertises her bum for sale on Ebay
Long suffering mum is real winner after son wins lottery