by Andrea Leebody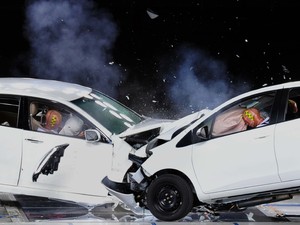 Every woman wants their proposal to be one to remember – whether it's on an exotic beach, in a fancy restaurant, or over a bottle of fizz.
But Irena Kolokov, from Russia, got more than she bargained for when her boyfriend, Alexey Bykov, 30, popped the question.
Unknown to her, Alexey had hired a movie director, stuntmen, make-up artists and a script writer to stage a bogus car crash, so that when she arrived at the scene she'd think he was dead. Then, he'd ask her to marry him. As you do.
"We'd arranged to meet at a certain place, but when I arrived there were mangled cars everywhere, ambulances, smoke and carnage," Irena says.
"Then when I saw Alexey covered in blood lying in a road a paramedic told me he was dead and I just broke down in tears."
Her 'dead' boyfriend then jumped up and proposed to his hysterical beloved, still dripping with fake blood.
"I was so cross I almost killed him again, but this time for real," Irena says.
Luckily, after overcoming the shock of thinking her boyfriend had been killed in a horrific accident, she said yes and the couple tied the knot last week.
Cheeky Alexey claims he just wanted to check that his girlfriend loved him to death: "I wanted her to realise how empty her life would be without me and how life would have no meaning without me. I think it worked but I promise it's the last time."
How would you react to a proposal like this? Let us know below! Don't forget our Comment of the Week wins £50!
Read more Yours Truly: Real Life stories:
The key to reaching 100 is having no husband!
This is why you'll never forget your first kiss
From death's door to yummy mummy: a weight loss story