by Andrea Leebody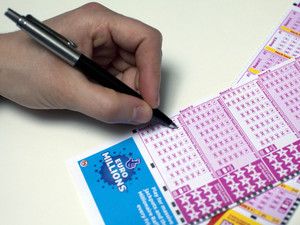 With his mum's home-cooked meals, no bills to pay, and no need to do his own laundry, Oliver Milner had no plans to leave home.
In fact, it took winning the lottery for the lazy lad to finally accept it was time to stop living under his mum Diane Walker's roof and get a place of his own!
Oliver, 27, scooped a whopping £2 million when his six Euromillion numbers came up, and long-suffering Diane is now looking forward to helping her adult son pack up his childhood bedroom.
Diane, from Hull, admitted: "It's every parent's dream to know their children are financially secure for the rest of their lives. And at last he's moving out!"
As well as treating himself to a bachelor pad, we're pleased to hear that Oliver is planning to take his mother and the rest of his family to Disney World in Florida.
Finally, you could say, he is keeping mum!
What would you spend your money on if you won the lottery? Tell us in our comments box below.
Read more:
Debate: How real life people would spend a lottery win
Read more:
Man nearly dies in post after mailing himself to his girlfriend