by Andrea Leebody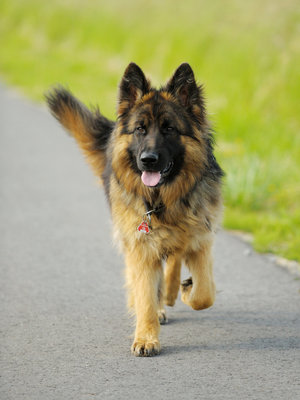 When distraught Tracey Thompson had her purse pickpocketed in a pet shop, she didn't think she'd ever see it again.
As well as losing £100 cash, the stolen purse contained precious pictures of the 48-year-old's dead brother Paul and her daughter Jenny's wedding day.
But luckily, there was one chap who wasn't going to let the thief get away so easily – Tracey's German Shepherd Sam, who just so happened to be an ex-police sniffer dog.
The crime-fitting canine picked up a scent when Jenny, 25, took him for a walk later that day near the pet shop, and he started sniffing around.
After following a trail for 20 minutes, he raced in to a bush and came out carrying the missing pink purse in his mouth.
Jenny, from Leek in Staffordshire, said: "I followed him to an industrial estate half a kilometre away, where he lay down on the grass and kept pointing with his nose.
"I looked down and incredibly, there was my mum's credit card."
She adds: "He then set off again and kept trying to pull me in to a bramble bush. He pushed his way through the brambles and came out with the purse.
"Lassie has nothing on him!"
Although the cash was missing, luckily the photos were still there. Phew!
Sam's investigation has helped the police investigation. A 26-year-old woman has been arrested in connection with the theft and bailed pending further enquiries.
What amazing feat has your pet dog done? Tell us in our comments box below.
Read more:
Westlife programme saves girl's life in knife attack
Read more:
Drunken man gets head stuck in fairground cartoon cut out