by Boudicca Fox-Leonard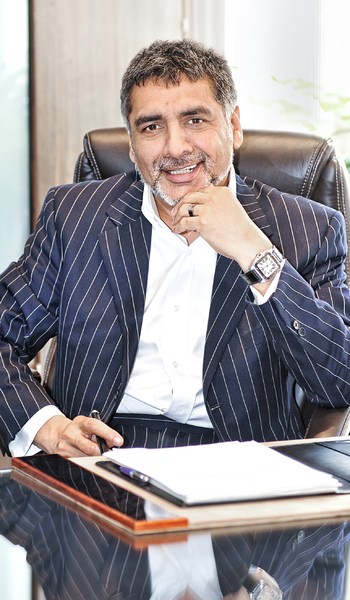 With £82.5m ready to be distributed to budding entrepreneurs, now is your chance to make a business idea you have a reality.
The government have devised the StartUp Loans scheme to get Britain's next wave of Mark Zuckerbergs and Richard Bransons on their feet, and former Dragon's Den star James Caan is leading the drive.
With youth unemployment at its highest for 18 years, it's a chance for anyone between the ages of 18-24 to get a kick-starter of as much as £2,500.
Reveal
picked Mr. Caan's brain for more info...
What are the biggest challenges faced young people trying to set up a new business?
Getting funding is the biggest barrier. Some people might suggest that £2,500 isn't a great deal of money but it's enough to get a small enterprise up and running. The right advice also matters – we've got a wide range of mentors in place.
What do you look for in a new business idea or investment?
The most successful ideas are often simple, ingenious tweaks on an existing product, but delivering it faster, better, cheaper or more easily. Easyjet didn't bring down BA, it simply offered an alternative and opened up a new market.
How can a young entrepreneur impress you and stand out from the crowd?
It's the ones who show imagination, passion and persistence to get their message across. But also those who you know have really done their homework, who know their market and have worked through their numbers and their business plan thoroughly.
What would you tell your younger self if you had the opportunity?
Probably to be more measured in my approach. When I was younger I was typically fearless - and often reckless - and as a result I made some mistakes. I also would have told myself to take some time out of my business - I worked 7 days a week - and do more networking.
What skills would you tell budding entrepreneurs they need?
Three words: passion, resilience and motivation. Starting your own business is never a walk in the park, but if you have the drive to make it work then you are so much morelikely to succeed.
What's the most common mistake people make when starting a business?
Research is fundamental to the business process. It always surprises me when people don't research their market properly. At least know who your main competitors are, what they are offering and at what price point.
What advice would you give a young unemployed person today?
Don't assume running a business is 'just something other people do'. You don't have to change the world – concentrate on the right idea that matches your personal strengths. My sister started from scratch selling samosas to her friends and family more as a hobby than a business. Now she's running her own small factory and employing 15 people.
* Startup Loans – What you need to know *
- To apply, you must be older than 18 and younger than 24, living in England and thinking about starting a business.
- Be ready to submit a business plan on which your application will be based.
- You will be required to pay back the loan within three to five years at a fixed APR (annual percentage rate) of 3% plus RPI (Retail Price Index) which is currently 3.5%.
- You will also receive business support and mentoring from an expert in your field.
Register at
businessinyou.bis.gov.uk
> Read more: Would you strip to pay for your studies?
> Read more: Would you sacrifice your career for your man?