I'll admit, the prospect of saving money is not the most thrilling element of getting married. Drinking my body weight in potential wedding wine / being loved-up with The Boyfriend / cooing over cute wedding websites are far higher up my list of fun things to do when it comes to getting hitched.
But if ever there was a time to attempt to be sensible, it's now. Argh! And getting an email from the Post Office the other day hammered that home - they've just done a poll on how long it takes to save for a wedding.
The result? People now wait on average two years to get the money together for their nuptials.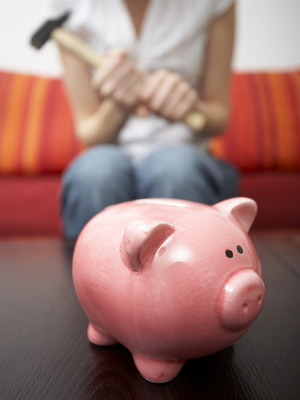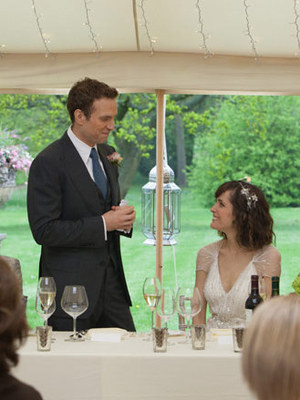 So I did a straw poll among my married friends.
As soon as most of my mates got engaged, they put a chunk of money they'd already saved into their wedding pot, then saved extra money each month in readiness – the sensible lot.
Coupled with a cash injection from the family for some, and some finely-honed skills in bartering for others, my friends were mostly married within a year of getting engaged.
Here are some of their top tips on achieving the day you want without going over budget…
1. Use your mates!
In a good way, that is. Got a friend who loves to DJ on a Friday night? Hello, wedding entertainment! Is your mum mates with the local florist? I spy a flower discount.
2. Don't be scared to barter
Weddings are expensive, there's not getting away from that. But you shouldn't be afraid to ask for a discount once you've received a quote.
3. Be realistic
Is that ice sculpture of you and your intended suddenly looking a little out of budget? Ask yourself this… Have you ever been to a wedding and remembered every single detail? What you actually remember is when your friend got so drunk that he face-planted into the wedding cake (this did actually happen at a wedding I went to), or how long you spent on the dancefloor shimmying away to cheesy hits. Seeing your mates have fun is worth so much more than scrimping and saving for something that will have melted by the end of the night.
4. Prioritise
Make a list of all the things you'd love to have on your wedding day, then go through it with a fine tooth comb. You'll find things on your list that are essentials, and things that would be a nice addition, but not a necessity. So if you're getting worryingly close to tipping over your budget, the non-essentials should be the first to go.
5. Get a joint account
Back to the Post Office for this one: "Our research shows that many couples are having to take part or, in some cases, sole, financial responsibility for their wedding so it's important that partners invest in a good savings account to be able to afford the wedding of their dreams." They recommend checking out www.postoffice.co.uk for more info.
> Hannah's Wedding Blog: picking a dream team of bridesmaids
> Hannah's Wedding Blog: Getting engaged!