Perhaps the best thing about going to a wedding? Why the food of course!
And when it comes to deciding on what you're going to serve at your own day and going through endless taste tests… well, it's a tough job but someone's got to do it!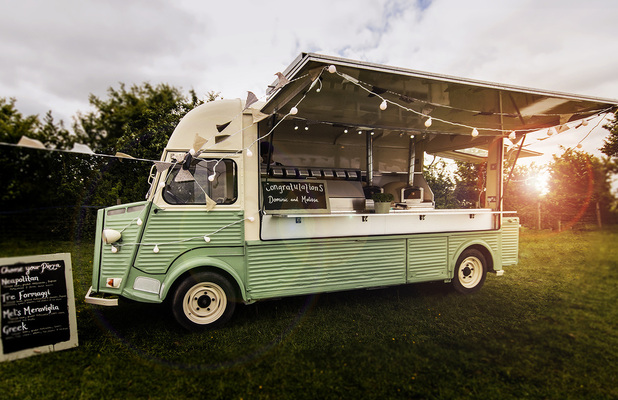 Now, most traditional to serve at a wedding breakfast (I'll never understand why they call it that) is a three-course silver service meal – usually some sort of beef fillet or goat's cheese tart for the vegetarians, am I right? But if you've been reading my blog regularly you'll know by now that I'm keen to do things a little differently and a bit less formal for our big day.
Mark Wright
and Michelle Keegan took a more laid back, homely approach to their wedding grub serving up his 'n' hers favourites fish & chips and pie 'n' mash to their guests.
So, to complement our laid back farm setting with a vintage theme, we decided to serve one of our favourite foods: pizza!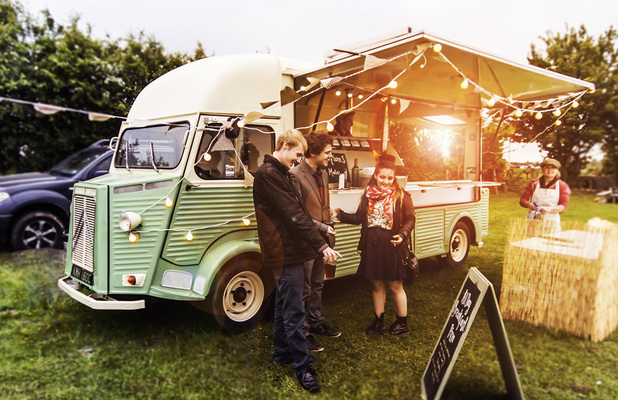 After researching local suppliers and keeping our ear to the ground for recommendations we were totally won over by a company who regularly cater for festivals and weddings called
Pizza Dreams
, who serve their artisan wood fired pizzas out the hatch of a vintage Citroen H van and an up-cycled horse box. Dreamy!
We had our heart set on the supplier so much so, we moved our wedding date to accommodate them as, planning a wedding at relatively short notice, you tend to find all the best are already fully booked.
It's traditional to also serve nibbles with your welcome drinks (and to help line the stomachs before all that champers sets in!) as well as evening food for your reception guests.
Feeding the thousands (almost literally, in our case!) doesn't come cheap so we decided to go all-in with the supplier and get them to feed and water our hungry guests for all three stages, which bagged us a nifty discount.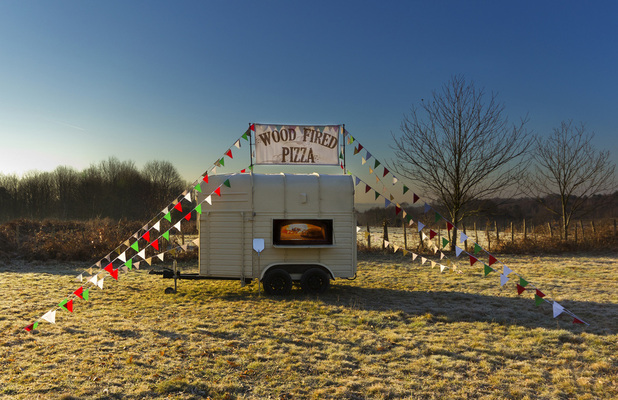 We travelled to the supplier's HQ in Maidenhead, Bucks one weekend to sample the delights – it's a tough life being a bride.
After testing dozens of tasty morsels, everything from smoked salmon blinis to sausages on sticks, we settled on a selection of canapés to serve with our welcome drinks: Aperol Spritz cocktails, an Italian aperitf to complement the pizzas, natch.
We also had the chance to select four different pizza toppings to serve on the big day which we've customised to suit our tastes. Think Emma's four cheese dream and Tom's mighty meaty!
We felt pizza was a thrifty yet quirky choice for our guests and the 90 second cooking time in the wood fired oven was a no brainer as we have over 100 guests to feed. It'll certainly make for a talking point for our guests as they queue up to select their toppings.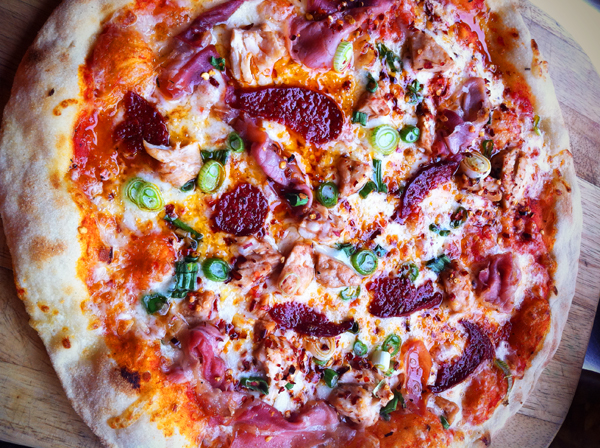 For the evening we decided to go whole hog (excuse the pun) with an Italian style hog roast – known as porchetta, and served up in baps with coleslaw salad and apple sauce. Yum!
For dessert we've also saved on our budget by asking our guests to bake cakes for our cake table – which we'll serve as pudding and judge in a Bake Off style competition... Budding Mary Berrys at the ready!
Pizzadreams.co.uk
More from Emma's wedding planning!
4. Picking the perfect invitations
3. Blooms on a budget
2. Finding the perfect venue
1. Getting married in Las Vegas!