Who says pizza can't count as one of your five-a-day?!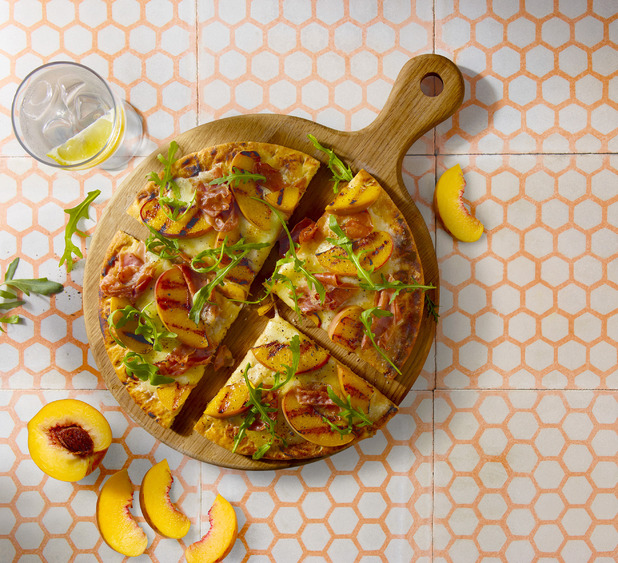 From maple bacon cupcakes to doughnut burgers (don't judge us!), we love offbeat sweet and savoury food combos.
And now, thanks to the
Little Twist
recipes by Sainsbury's, there's no stopping us with our hybrid food creations! An upgrade from the classic Hawaiian flavour, this Parma Ham and Grilled Peaches Pizza is every bit as delicious as it sounds.
Another bonus? The summery dish is super easy to prepare, and it's guaranteed to impress your friends.
Time to don that apron...
Ingredients
2x peaches
1x tbsp vegetable oil
2x 150g pack Sainsbury's Italian mozzarella, thinly sliced Sainsbury's Thin & Crispy 10" Pizza Base 2x 261g
1x 80g pack Sainsbury's Italian parma ham slices
40g rocket
Method
Preheat the oven to 200c.
Cut the peaches in half, remove the stones and cut each half into slices. Brush the peach pieces with the oil.
Heat a griddle pan over a high heat and place the peach pieces on it (you might need to do this in two batches.)
Cook on each side for 1-2 minutes, until there are dark brown griddle marks on each side. Set these aside.
Divide the slices of mozzarella between the two pizza bases. Top this with the parma ham (you can lightly tear this to distribute it more evenly) and peaches.
Place in the oven and cook for 10-12 minutes or until the cheese is golden brown and melted.
Divide the rocket between the pizzas and serve.
Prep Time
5 mins
Cook Time
25 mins
As featured in this week's Buzz-O-Meter in Reveal Magazine - Issue 33