If you need any excuses for healthy eating, why not try this deliciously healthy breakfast recipe from TV chef Gizzi Erskine?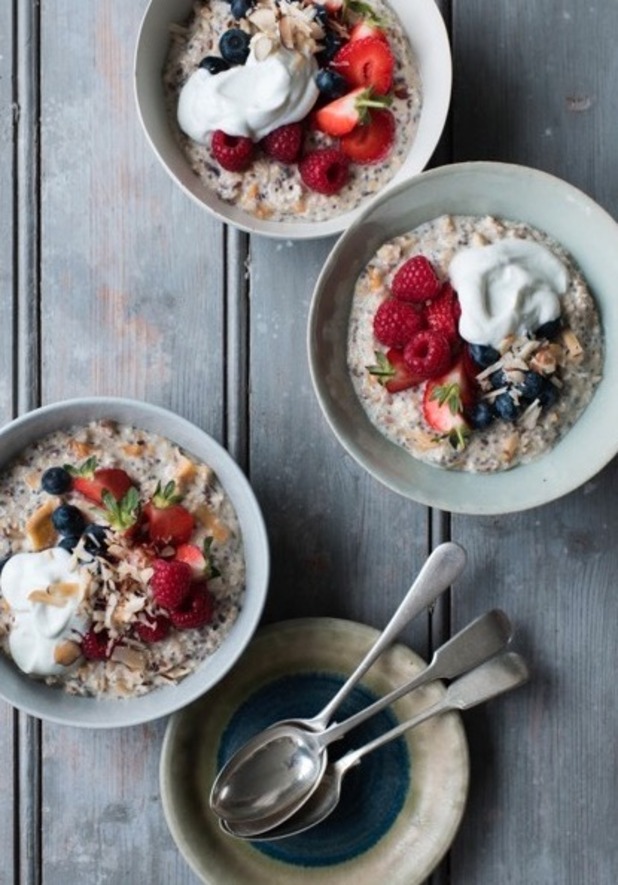 Gizzi's teamed up with dairy company Arla to encourage people to shake up their breakfast routines. We love her new recipes, which include this one for Lacto-fermented Sunny Bircher Muesli with Yogurt and Blueberries. Doesn't it look tasty?
Ingredients
For the Bircher muesli
100g oats
2 tbsp. mixed dried tropical fruit, you can buy this from the supermarket, it has dried pineapple, mango and banana), roughly chopped.
2 tablespoons chia seeds
1 tbsp flax seeds
Handful of brazil nuts roughly chopped
350ml Cravendale milk
250ml good quality apple juice
1 grated apple
1 tablespoon maple syrup
a dash of all-natural vanilla extract
To serve, per two portions
4-6 tablespoons of Bircher muesli
2-3 tablespoons thick yogurt
A couple more slurps of milk
6 tbsp of blueberries (we've also used raspberries and chopped strawberries in our picture.)
Method
1 Mix all of the ingredients for the Bircher muesli together in a bowl and mix well. It will be too wet at this stage but the soaking process drinks up all that liquid and flavor.
2 Now make sure its covered with cling or popped in a sealable container and place overnight in the fridge. This stores for 4-5 days.
3 When you're ready to eat, split the muesli between two breakfast bowls, top with skyr (or any of your fave) yogurt, a slurp of milk and then the fruit and serve straight away.
Prep Time
Six minutes
Cook Time
Soaking time: 12 hours minimum
Nutrition Information
Makes 5-8 portions
Gizzi's tip
: We've all heard of packed lunches, so what's wrong with a packed breakfast? If you struggle to find time for breakfast before you leave for work, as many of us often do, buy up a load of food containers and use them to keep your brekkies fresh for when you get to the office. All of my weekday breakfast recipes are designed to take on-the-go and can be enjoyed wherever.
Check out more of Gizzi's breakfast recipes
HERE.
And there's more delish brunch and breakfast recipes in our gallery below.
Copyright: Farmhouse Breakfast Week