If you love tucking into a delicious cake but want to ditch dairy and sugar, why not try this scrummy recipe from cooking sensation Olivia?
Disney's ZOOTROPOLIS teamed up with the famous foodie to host an exclusive cooking masterclass at Greenwich's new venue Farmopolis, where she showcased her brand new recipes inspired by the film.
Here's one of her fantastic new recipes that shows you how to have a healthier treat at home!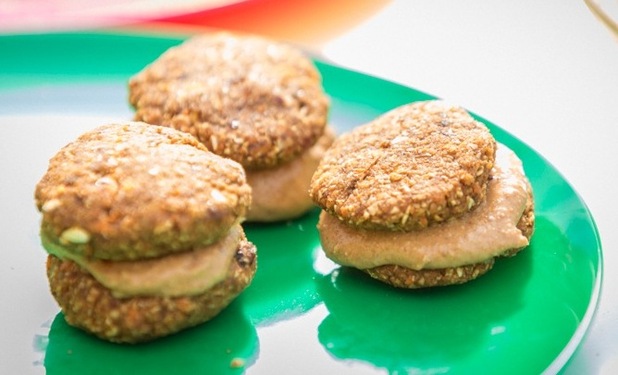 Speaking about the recipe, Olivia says: "I absolutely love a moist cake rather than a dry, crumbly one, and carrot cake is one of the gooiest varieties when you get it right. Traditionally, it is the large amounts of butter mixed with the carrot that provides the moisture in a carrot cake, but, since I can't eat dairy, I had to find another way to achieve this."
Recipe makes an 18cm double layer cake.
Ingredients
Softened coconut oil - to grease tins
Cinnamon Cashew Cream
Orange zest - to decorate cake
480g of ground almonds
80g of buckwheat flour
1 teaspoon of ground nutmeg
2 teaspoons of ground cinnamon
1/4 of a teaspoon of salt
240g of sultanas
480g of carrots - finely grated
Zest of 2 oranges
60g of melted raw coconut oil
500ml of maple syrup
Method
Preheat the oven to 180°C/350°F/Gas mark 4. Grease two 18cm cake tins.
Mix the ground almonds, flour, spices, salt and sultanas in a bowl.
Add the grated carrot and orange zest and mix again.
Add the oil and maple syrup and stir to combine.
Spoon the mixture into the two tins, making sure they have equal amounts.
Smooth the top and bake in the oven for 1 hour, checking on them once 45–50 minutes has passed as they may need covering with foil for the remaining time.
Remove from the oven and leave to cool entirely in their tins. When you get them out they will still feel slightly moist in the middle, but they firm up a bit as they cool.
Remove the cake from the tin and ice the top of the first cake with the Cinnamon Cashew Cream, then stack the other cake on top and ice this with more frosting.
Grate the orange zest over the top to decorate and for extra flavour.
Cook Time
1 Hour
Zootropolis Blu-ray & DVD is out now.
Follow us on Twitter @RevealMag for all your celeb, fashion and beauty news!