We've been massive fans of Greek culinary expert Tonia Buxton for some time now and we love this easy to make super summery recipe for her Pavlova Greek Yoghurt Sundae.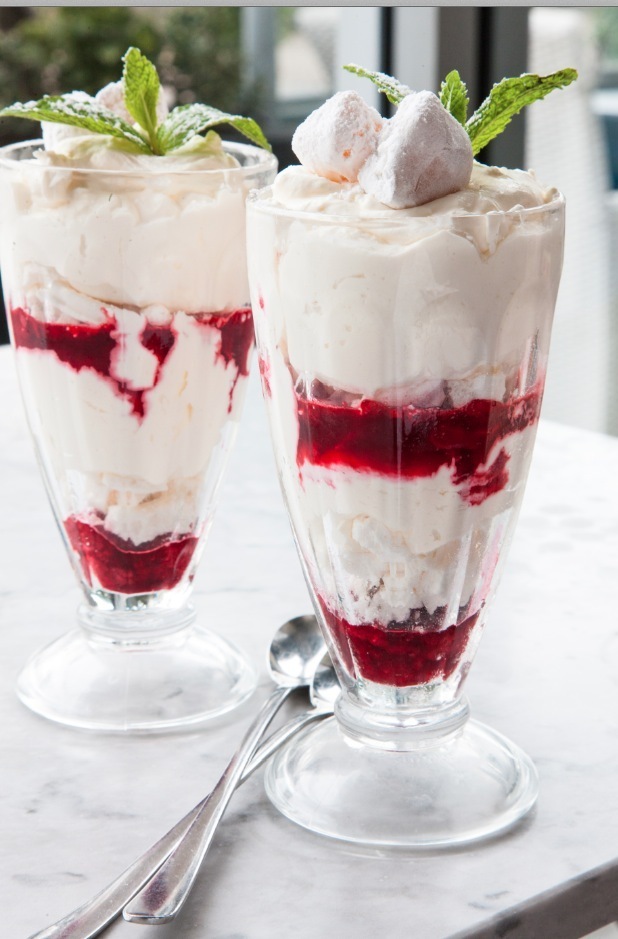 It's from Tonia's new recipe book:
The Real Greek with Tonia Buxton out 14th July RRP £20 (Blink Publishing).
Tonia is the face of London restaurant chain
The Real Greek
and she has a passion for healthy home-style cooking, influenced by this beautiful corner of the Mediterreanean.
In this book, she shares the secrets behind some of The Real Greek's most popular dishes - from prawns with feta and dolmades to slow roasted pork belly and kleftiko.
(PS - did we mention Tonia's
Beef Stifado
is one of the most popular recipes on this site?)
If you're new to Tonia's delish recipes why not start with this mouth watering dessert? She says this is 'a wonderful modern-day twist on our good old-fashioned sundae….made with layers of crisp, light meringue, raspberries, and creamy yoghurt flavoured with rosewater and loukoumia.'
Mmmmmm...what are you waiting for?
Ingredients
300ml double cream
500g plain Greek yoghurt
3 tbsp. icing sugar, sifted
3 tbs. rosewater
150g raspberries
3–4 small meringue nests, bought or homemade
2 tbsp. coarsely crushed pistachio nuts
6–8 cubes of loukoumia (see cook's note below) halved diagonally
Fresh mint, to decorate
Method
1 In a large mixing bowl, whip the cream until it forms soft peaks. Fold in the yoghurt, icing sugar and rosewater. Cover and chill until required.
2 When ready to serve, fill the bottom half of each glass with raspberries, crumbled meringue and crushed pistachio, in that order.
3 Spoon on half of the yoghurt mix, repeat with the raspberry, meringue and nut layer and top with the remaining yoghurt mix.
4 Decorate with the loukoumia and a sprig of mint. Serve immediately.
Nutrition Information
Serves 6
Cook's note:
'The word 'loukoumia' roughly translates in Arabic and many of the other languages as 'soothes the throat' or 'quiets the voice'. This Greek confectionery, also known as Turkish Delight, is soft and chewy, sugar-sweet and comes in many traditional flavours.'
Check out more dessert recipes in our gallery below
Copyright: Pam Lloyd