Simple preparation and zero cooking time...you can't go wrong with this dish!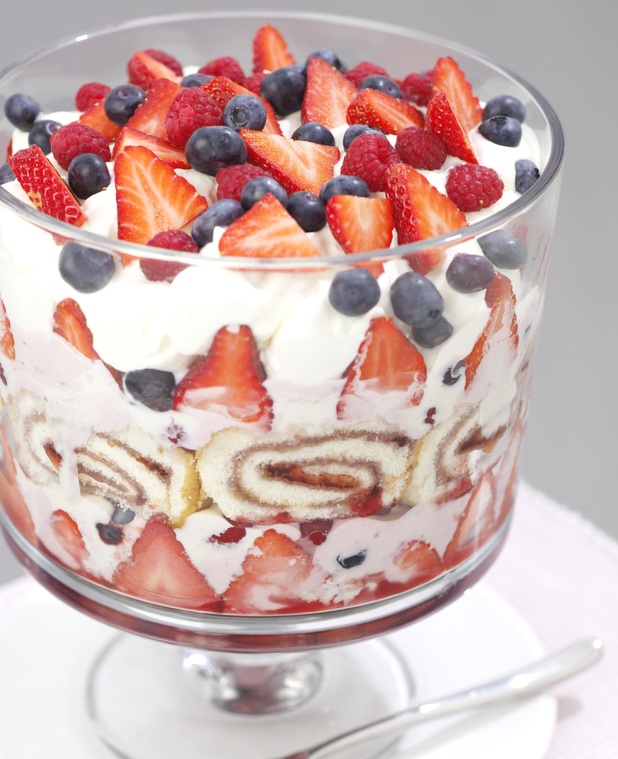 There are certain British Summertime traditions that just can't be ignored and trifle is one of them.
Made with Rachel's Organic yogurt, this healthy Fruity Trifle is delicious and super easy to prepare.
Find yourself a nice serving bowl and make this pudding the centre-piece for your next dinner party.
The recipe serves 12-16 people, so there's plenty to go round!
Ingredients
3 raspberry Swiss rolls, sliced
800g strawberries, de-stalked and cut into halves, reserve some for decoration
300g raspberries, reserve some for decoration
360g blueberries, reserve some for decoration
1 x 500g fresh vanilla custard
2 x 450g Rachel's Low Fat Raspberry Bio Live Yogurt
600ml whipping cream
Method
1 Begin by layering the Swiss roll on the base followed by the fruits, custard and yogurt, repeat the layers until the serving dish is three quarters full.
2 Whip the cream to soft peaks and either pipe or spoon into the dish to finish the trifle layers.
3 Decorate with scattered fruit and serve immediately.
Prep Time
20 minutes
As featured in this week's Buzz-O-Meter in Reveal Magazine - Issue 27