Since winning The Great British Bake Off in 2012, John Whaite has continued to dominate the baking world thanks to delicious creations like this...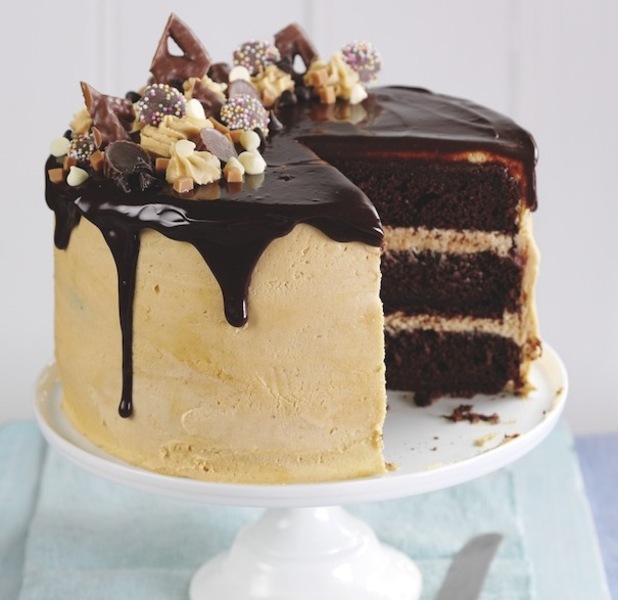 There's nothing better than treating yourself to a slice (or two - no restrictions here!) of cake, especially when paired with a nice cup of tea. It's a quintessentially British combination that works brilliantly. So you can imagine how excited we are about this drool-worthy Chocolate and Peanut Butter Drip Cake recipe.
With chocolate chips, fudge pieces and glorious amounts of peanut butter, this cake wouldn't look out of place in Willy Wonka's chocolate factory!
This recipe serves 14-16 people, so be sure to invite some friends over to help you eat it. They're bound to be impressed with this masterpiece.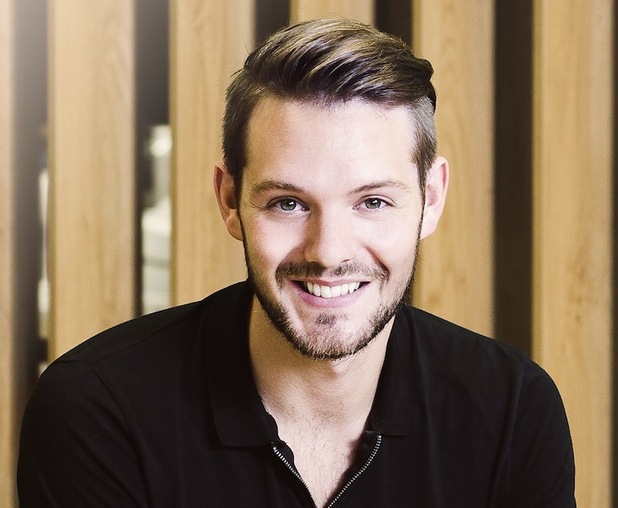 Ingredients
For the Cake:
300ml boiling water
450gm dark brown muscavado
180g Stork with butter
150gm caster sugar
6 large eggs
360ml buttermilk
120gm cocoa powder
480g self-raising flour
1tsp bicarb powder
For the Buttercream:
350g Stork with butter
350g Sunpat smooth peanut butter
500g icing sugar
For the Chocolate Drip:
75g dark chocolate chips
75g double cream
To Decorate
Chocolate chips (dark and white)
Fudge pieces
Chopped curly wurly
Peanut butter cups
Chocolate non pareils
Equipment:
3 x 20cm loose bottomed cake tins
Small offset palette knife
Flat cake/dough scraper
20cm cake card
Icing turntable
Piping bag fitted with large open star nozzle
Method
1.
Preheat the oven to 180C/160C fan/gas mark 4. Grease and line the bases of 3 x 20cm loose-bottom cake tins.
2.
For the cake, dissolve the dark muscovado sugar in the boiling water and set aside until needed. In a mixing bowl using an electric handheld mixer, or in a KitchenAid fitted with paddle attachment, cream together the Stork with butter and caster sugar until well blended.
3.
Add the eggs, one at a time, and beat after each addition. Add the buttermilk along with the cocoa powder, and beat until smooth. Sift over the flour and bicarb and beat just until incorporated, then slowly pour in the sugar-water mixture, beating.
4.
Once you have a smooth batter, divide between the cake tins and bake for 20-25 minutes, until a skewer inserted into the centre comes out clean. Allow to cool in the tins for 5 minutes, then invert onto a wire wrack to cool completely.
5.
For the buttercream, whisk together the Stork and peanut butter until very pale and fluffy – about 5 minutes. Then add the icing sugar and whisk again for a further 5 minutes until very pale.
6.
When the cakes are cooled, sandwich them together with a layer of buttercream in between each cake. Put the cake onto the cake card and onto an icing turntable (if using) and with the small offset palette knife, spread a generous helping of buttercream over the top and sides of the cake – be careful not to touch the cake with the palette knife to avoid mixing crumbs into the buttercream. Get the top and sides as smooth and sharp as possible, then chill the cake for 20 minutes. Put the leftover buttercream into the piping bag.
7.
Meanwhile, make a ganache by placing the chocolate chips into a heatproof bowl. In a small saucepan bring the cream to a simmer, remove it from the heat, then pour it over the chocolate chips. Wait for 30 seconds then whisk together into a smooth, glossy ganache.
8.
Pour a little ganache over the top of the cake and coax it towards the edges of the cake allowing it to run down the sides. Chill for 10 minutes.
9.
To finish decorating, pile a selection of various chocolates and sweets on top of the cake – this looks better not quite central, and herded together in one area.
Prep Time
20 minutes
Cook Time
20-25 minutes
Great British Bake Off
winner John Whaite supports the Stork Sunday Bake service which helps bakers with tips and recipes on Sundays. Follow Stork on Facebook or @bakewithstork on Twitter and Instagram for recipes and tips.