Mmm... how delicious and mouth-watering does this avocado on toast recipe look? It's just one of the gorgeous recipes included in M: A 24 HOUR COOKBOOK, a brand new book from M, the luxury dining and drinking destination.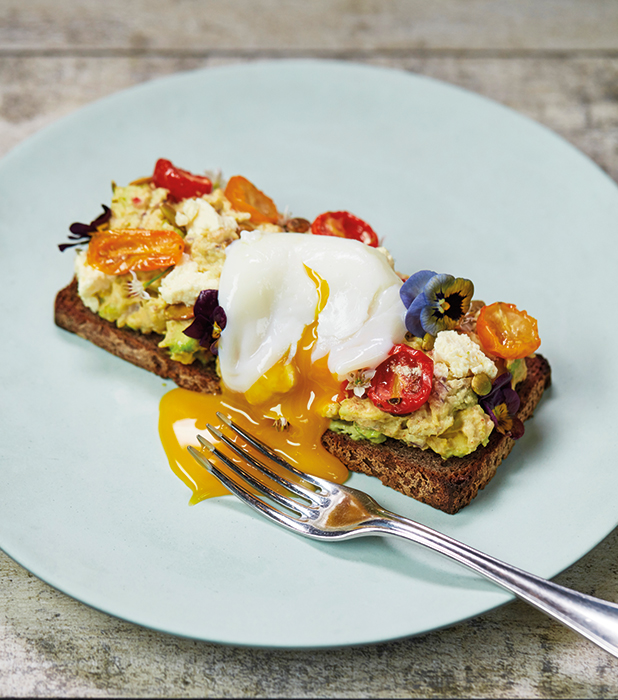 We think this would be an impressive - and delicious! - treat for a weekend brunch and, surprisingly, not that difficult to make. M's executive chef Michael Reid says: "Since the flavours are so pure and unfussy, it's important to source a great-tasting avocado, but the main thing is that it's perfectly ripe. This quick- and-easy dish is a great vehicle to kick-start your morning, and tastes divine."
Ingredients
2 Hass avocados
2 tablespoons crème fraîche
2 teaspoons finely chopped red onion
1 teaspoon deseeded and very finely chopped fresh red chilli
1/2 teaspoon smoked paprika
4 free-range eggs, at room temperature
4 slices of rye bread
12 cherry tomatoes, halved
2 teaspoons olive oil
2 tablespoons crumbled Graceburn feta cheese
1 tablespoon toasted pumpkin seeds sea salt
Edible flowers, to garnish
Method
1.
Bring a saucepan of water large enough to poach 4 eggs to the boil, and preheat the grill to high.
2.
While the water is coming to the boil, peel, deseed and roughly chop the avocados. Place half the avocado flesh in a mixing bowl and lightly crush with a fork. Stir in the crème fraîche, red onion, chilli and paprika. Gently fold in the remaining chopped avocado and season with salt to taste. Set aside while poaching the eggs.
3.
Whisk the boiling water in a circular motion, then crack the eggs into the centre and reduce the heat to low. Leave the eggs to poach for 3 minutes for a soft yellow yolk.
4.
Meanwhile, toast the bread until crisp and browned on both sides. Set aside and keep hot. Season the cherry tomatoes with salt to taste and drizzle with the olive oil. Remove the eggs from the water with a slotted spoon and drain well on kitchen paper.
5.
Divide the pieces of toast among 4 plates, then cover each with the avocado mixture. Add the tomatoes, feta and pumpkin seeds, then top each with a poached egg. Garnish with flowers and serve immediately.
Nutrition Information
Serves four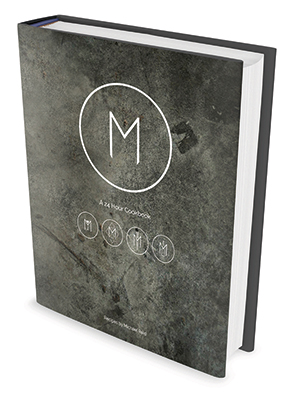 Michael Reid created all the recipes within the book drawing on his 15 years experience at some of the world's finest restaurants, including Le Gavroche, Restaurant Gordon Ramsay, Vue de Monde and The Skinny Duck.
He says he sees the book as an introduction of his philosophy of how to eat in a modern lifestyle: "It's the four days saint / three days sinner diet! Mixing recipes from our RAW & GRILL menus from breakfast through to late night food gives you the perfect balance of protein, carbs, low fat, low salt & sugar – without compromising quality, or taste sensations!"
M: A 24 HOUR COOKBOOK is available nationwide in all good bookstores from 21st April. For a limited time only, advanced signed copies are now available from www.mwinestore.co.uk. For every book sold, a £5 donation will go to M's chosen charities, the Head and Neck Cancer Foundation and the School of Hard Knocks.