We can't wait for BBQ weather to arrive and here's a fabulously easy recipe for posh burgers from acclaimed New Zealand-born chef Peter Gordon.
These Lamb and Cheddar Cheese Burgers come with super-delish Beetroot Horseradish Mayonnaise, Watercress and Caramelised Onions. Don't they look fab?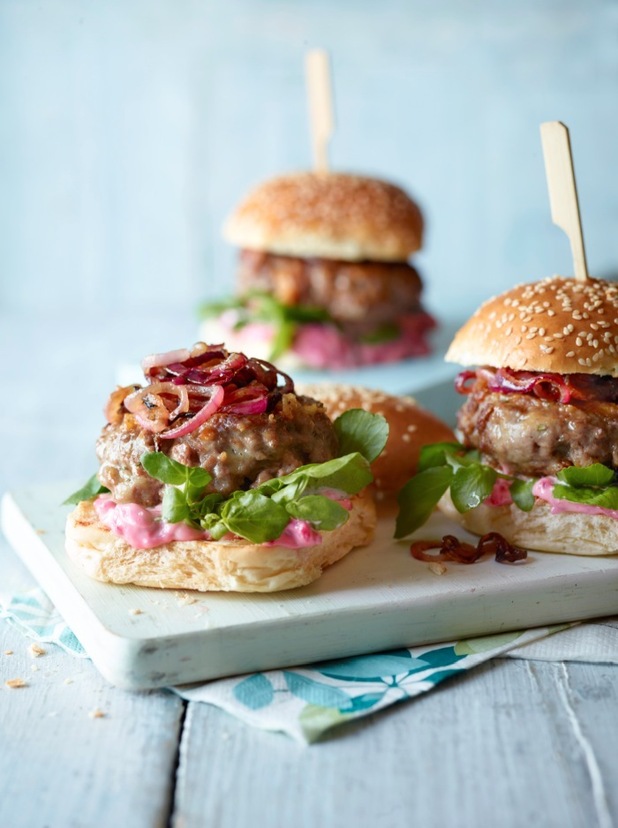 Ingredients
600g New Zealand lamb mince
1/4 tsp fresh rosemary (or thyme), finely chopped
60g cheddar cheese, coarsely grated
2 red onions, thinly sliced
1 tbsp olive oil
1 tbsp red wine vinegar or balsamic vinegar
4 tbsp mayonnaise
1 tbsp creamed horseradish
1 small cooked beetroot, grated
4 burger buns, split open
1 handful watercress
Method
1 Mix the lamb with the rosemary, cheese and 1/4 tsp fine salt. Divide into 4 and roll into balls. Pat the balls between your hands and flatten slightly to around 1.5 - 2cm thick. Lay on a plate, cover and leave at room temperature while you prep everything else.
2 Sauté the onions with 1/2 tsp salt and the oil over medium low heat until caramelized – stirring frequently to prevent them sticking to the pan.
3 Add the vinegar and cook 1 minute, stirring. Keep warm.
4 Mix the mayonnaise with the horseradish and beetroot, adding salt to taste.
5 Cook the burgers over medium high heat until browned, then turn over and cook on the other side for 2 minutes at which point the meat will be medium. Take off the grill and keep warm – ideally rest for 5 minutes.
6 Grill the buns on their cut side in the same skillet until warmed through. The lamb juices will be absorbed by the buns which will make them even tastier.
7 To serve, spread the beetroot mayonnaise on the bottom of the buns. Lay the watercress on, then sit a burger on. Spoon on the caramelised onions and sit the bun top on.
Nutrition Information
Serves 4
Check out more delish recipes from Peter using New Zealand lamb at
www.loveourlamb.co.uk