A combination of our two favourite dishes - why have we never thought of this before?!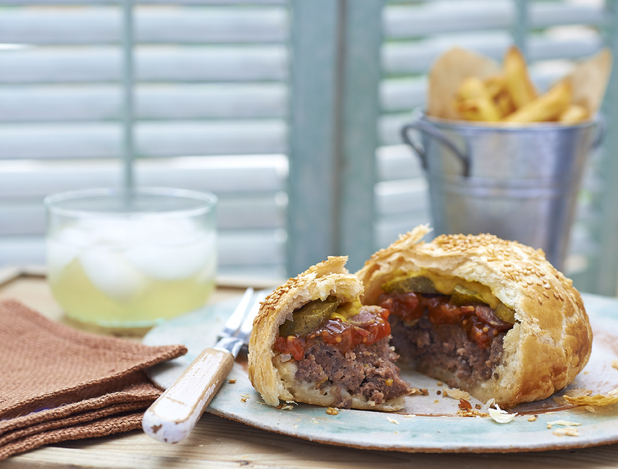 We just can't get enough of hybrid foods. First there was the mighty Cronut - a croissant combined with a doughnut, which inspired the creation of the Cruffin - a muffin and doughnut pastry mix.
The latest hybrid food trend? The Pieburger.
Yes, you did read that correctly. Taking our love of weird and wonderful food pairings one step further, we have a recipe for a half-pie, half-burger creation that's guaranteed to make you queen of the kitchen.
And considering it's currently British Pie Week (7th March-13th March), there's no better time for you to don an apron and try out the recipe!
Ingredients
600g burger beef mince
Salt and pepper
Oil
4tbsp Branston Tomato & Red Pepper Relish
4 rashes smoked streaky bacon (grilled & cut in half)
4 gherkins, sliced
American mustard
4 slices of cheddar cheese
2 sheets of puff pastry, (pre-rolled)
Egg yolk (for pastry brushing)
Sesame seeds (to sprinkle)
Method
· Shape the meat into 4 x 8cm burger patties, season each side cover with oil and place into a hot pan to quickly seal (15 seconds each side). Allow to cool.
· Spoon 1tbsp of Branston Tomato and Red Pepper Relish on top of each patty and cover with bacon. Place the gherkins carefully on top, add a touch of mustard, and then layer with cheese. Rest in the fridge until needed.
· Lay the pastry out, and using a bowl that's about 16cm, cut 4 x discs. Layer the trimmings, re-roll the pastry and then cut 4 x 8cm discs.
· Remove the burger stacks from the fridge and over one of the stacks, carefully place the larger of the pastry discs over and smooth around the edges and sides (like icing a cake) making sure you keep a 'burger like shape.
· Brush the smaller disc with egg yolk and place under the base of the burger. Seal the two pastry discs together. Rest in fridge for 10 minutes to firm.
· Pre-heat oven to 220C/gas 7. Place on non-stick baking tray (or covered in non-stick baking paper) and brush all over with egg yolk. Sprinkle with sesame seeds and bake for 20-25 minutes until golden brown. Rest for 5 minutes before serving.
Prep Time
20 minutes
Cook Time
25 minutes