Food blogging duo, Jasmine and Melissa Hemsley, share their ultimate family recipe with us....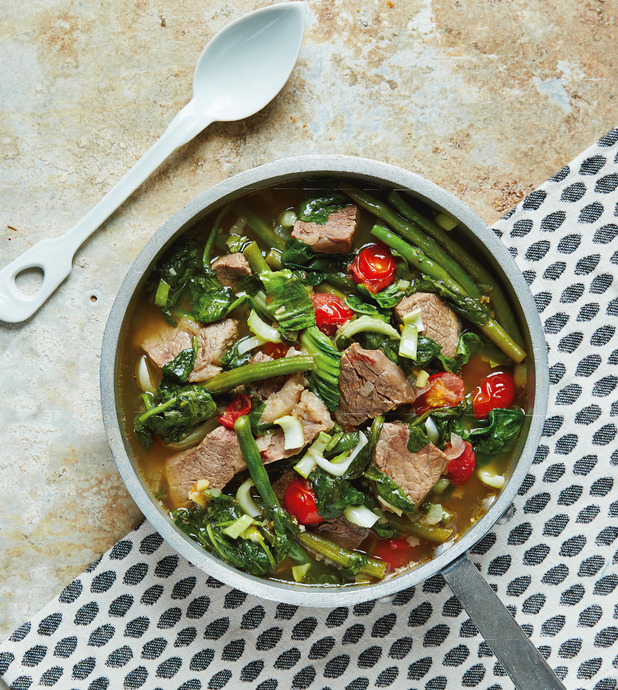 There's nothing quite like mum's home cooking, is there? And it would appear the Hemsley sisters agree, as their mum's version of the classic Filipino dish Sinigang takes centre-stage in their new cookbook,
Good + Simple.
A wholesome stew that's packed with flavour, the dish is guaranteed to warm you up on a chilly night. It's also a brilliant natural remedy for anyone fighting a common cold, so be sure to tuck this recipe away for times of need!
Ingredients
700g rib-eye steak
1.2 litres of water or Bone Broth
2 medium onions. diced
6 garlic cloves, diced
5cm piece of fresh root ginger thinly sliced (unpeeled, if organic)
20 cherry tomatoes, halved
3 tablespoons tamarind paste (this can be adjust to taste)
A friendly pinch of black or white pepper
3-4 tablespoons of fish sauce
400g of green beans, tops trimmed
400g of pak choi with the leaves and stalks roughly chopped
2 whole fresh red Chilies
400g spinach
Method
1 Cut the beef into 3cm cubes, retaining the fat as it will flavour the stew. Place the meat in a large saucepan and pour in the water or broth. Bring to the boil, then cover and quickly reduce the heat. Proceed to cook on a medium-low heat for a further 20 minutes.
2 Add the onions, garlic, ginger and tomatoes with the tamarind paste, pepper and fish sauce. Bring back up to a simmer and cook - covered - for a further 15 minutes. Taste for seasoning, adding more tamarind paste for a sourer flavour, if desired. Remember fish sauce is salty and brands vary in strength, so don't be afraid to play around with the measurements.
3 Tip in the beans. pak choi and whole chilies into the sauce pan. Bring back up to a simmer and cook covered for a further 5 mins.
4 Add the spinach and remove the pan from the heat, leaving the lid on the pan to allow the spinach to wilt the residual heat. Remove the chilies and serve immediately.
Prep Time
20 minutes
Cook Time
40 minutes
Recipe extracted from
Good + Simple
by Jasmine and Melissa Hemsley of
HemsleyandHemsley.com
As featured in this week's Buzz-O-Meter in Reveal Magazine - Issue 9