Everyone's talking about the Sirtfood Diet.
With wine and chocolate still on the menu, and the promise of losing 7lb in seven days, it almost sounds too good to be true.
Buy this week's issue of Reveal for the lowdown on why this is the must-try new eating plan.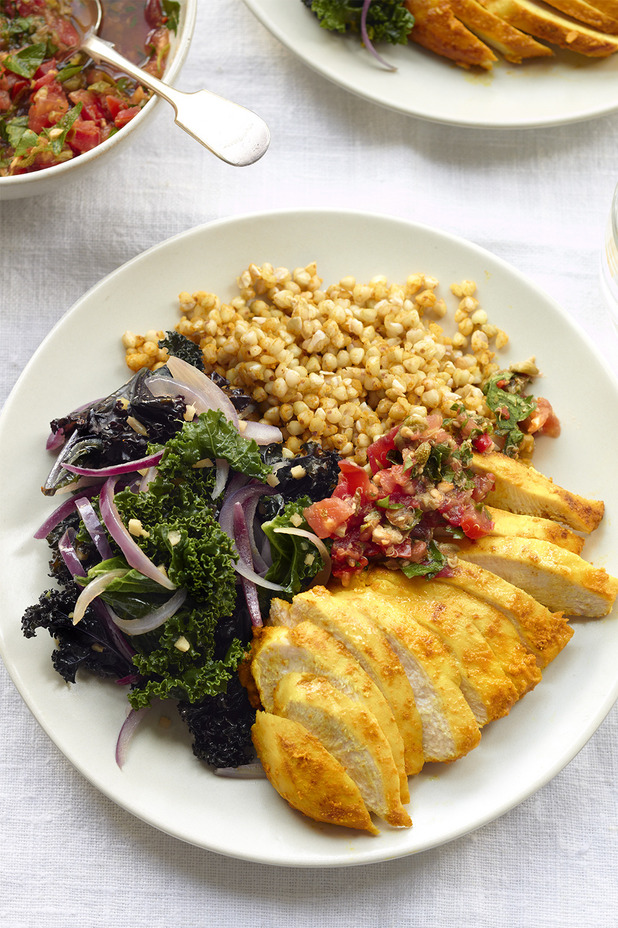 Ingredients
120g skinless, boneless chicken breast
2 tsp ground turmeric
juice of ¼ lemon
1 tbsp extra virgin olive oil
50g kale, chopped
20g red onion, sliced
1 tsp chopped fresh ginger
50g buckwheat
For the salsa
130g tomato (about 1)
1 bird's eye chilli, finely chopped
1 tbsp capers, finely chopped
5g parsley, finely chopped
Juice of ¼ lemon
Method
To make the salsa, remove the eye from the tomato and chop it very finely, taking care to keep as much of the liquid as possible. Mix with the chilli, capers, parsley and lemon juice. You could put everything in a blender but the end result is a little different.
Heat the oven to 220ºC/gas 7. Marinate the chicken breast in 1 teaspoon of the turmeric, the lemon juice and a little oil. Leave for 5–10 minutes.
Heat an ovenproof frying pan until hot, then add the marinated chicken and cook for a minute or so on each side, until pale golden, then transfer to the oven (place on a baking tray if your pan isn't ovenproof) for 8–10 minutes or until cooked through. Remove from the oven, cover with foil and leave to rest for 5 minutes before serving.
Meanwhile, cook the kale in a steamer for 5 minutes. Fry the red onions and the ginger in a little oil, until soft but not coloured, then add the cooked kale and fry for another minute.
Cook the buckwheat according to the packet instructions with the remaining teaspoon of turmeric. Serve alongside the chicken, vegetables and salsa.
Recipe taken from The Sirtfood Diet by Aidan Goggins & Glen Matten (Yellow Kite £7,99)