Pancake day may be over for another year, but that doesn't mean you can't indulge your cravings!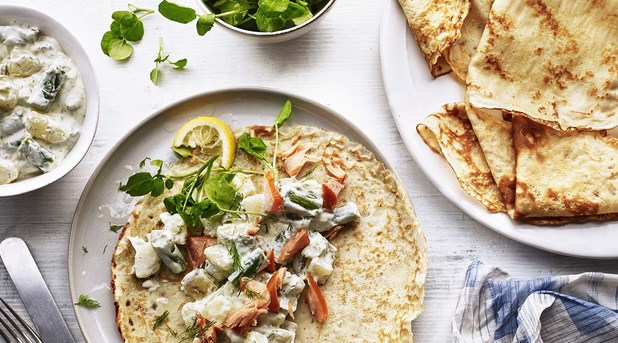 A switch-up on the classic lemon and sugar pancakes, this Danish delicacy is a savoury slice of heaven.
The colourful dish is bound to brighten up even the dreariest of days! Fancy giving it a go?
Don your apron and follow this simple recipe...
Ingredients
For the pancakes:
100g plain flour
250ml whole milk
40g butter, melted
1 large egg
Pinch of salt
Sunflower oil for cooking
For the filling:
300g potatoes, cubes and skin on
2 hot smoked salmon steaks
6 asparagus spears
5g fresh dill
4tbsp low fat crème fraiche
1 lemon
1 bag of watercress
Method
Start by making the pancakes, or you could make these the day before and keep them wrapped in the fridge.
Sift the flour and salt into a bowl. In a jug melt the butter then whisk with the milk and egg, pour into the flour and mix well until smooth.
Place a large, non-stick frying pan over a medium-hot heat. Add a little sunflower oil and then a ladle full of the batter, making sure to swirl the batter around the pan. Cook for about 1 minute, flip and cook on the other side for 20-30 seconds. Repeat until you have 4 large pancakes.
For the filling, cook the potatoes in salted boiling water until tender and drain. Chop the asparagus into bite sized pieces and cook for 2 minutes in boiling water, drain.
In a bowl mix the crème fraiche, dill and lemon juice. Stir in the potatoes and asparagus.
Place a pancake on your plate, spoon the potato filling onto the pancake, top with the flaked smoked salmon and serve with watercress.
Prep Time
10 mins
Cook Time
10 mins
Recipe sourced from www.lovepotatoes.co.uk