So much more than just a side dish, potatoes take centre stage in this delicious recipe that's guaranteed to have your guests asking for seconds.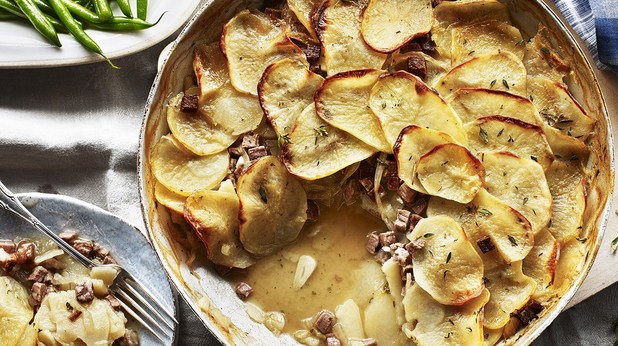 Hailing from France, Lyonnaise potatoes are a classic guilty pleasure delicacy and, best of all, they're super easy to make!
Don't believe us? Why not try this recipe and see for yourselves...
Ingredients
600g potatoes, peeled and thinly sliced
1 onions, thinly sliced
2 garlic cloves, sliced
20g butter (remove from microwavable recipe)
350ml beef stock (fresh stock works best but a stock cube is fine)
1tsp thyme leaves
200g leftover roast beef
Method
The easiest way to slice your potatoes thinly is by way of a mandolin. Alternatively take your time and use a sharp knife making sure your potatoes are of similar size.
Take a medium/large frying pan and melt the butter and once fizzing add the onions and garlic, cook until soft. Remove from the pan.
To the pan add a layer of potatoes, followed by 1/3 of the beef, 1/3 of the onions and 1/3 of the thyme. Repeat twice building up the layers finishing with a layer of potato.
Pour in the beef stock and pop a lid on and simmer away for about 15 minutes.
As the potatoes are nearer the end of their cooking turn your grill onto high.
Pop the pan under the grill to crisp up the top of the dish and serve.
Mix it up!
More of a chicken fan? This recipe works just as well if you replace the beef stock with chicken stock and the leftover beef with chicken pieces. Cook in the same way and voilà, you have Lyonnaise potatoes with a twist.
Microwavable version
Place a layer of the potatoes into a medium sized microwavable dish. Add 1/3 of the onions, 1/3 of the beef, 1/3 of the thyme, season with a little salt and milled pepper then repeat the layers twice more finishing with a layer of potatoes.
Pour in the beef stock, cover the dish with either cling film of parchment paper and microwave for 10 minutes. Rest the dish for 5 minutes then microwave again for 5 minutes and serve.
Prep Time
10 minutes
Cook Time
20 minutes
Recipe sourced from www.lovepotatoes.co.uk