From fun fairs to sports games, so many of our outings include hot dogs and a new restaurant in Brighton has dedicated its entire menu to the delicious American delicacy!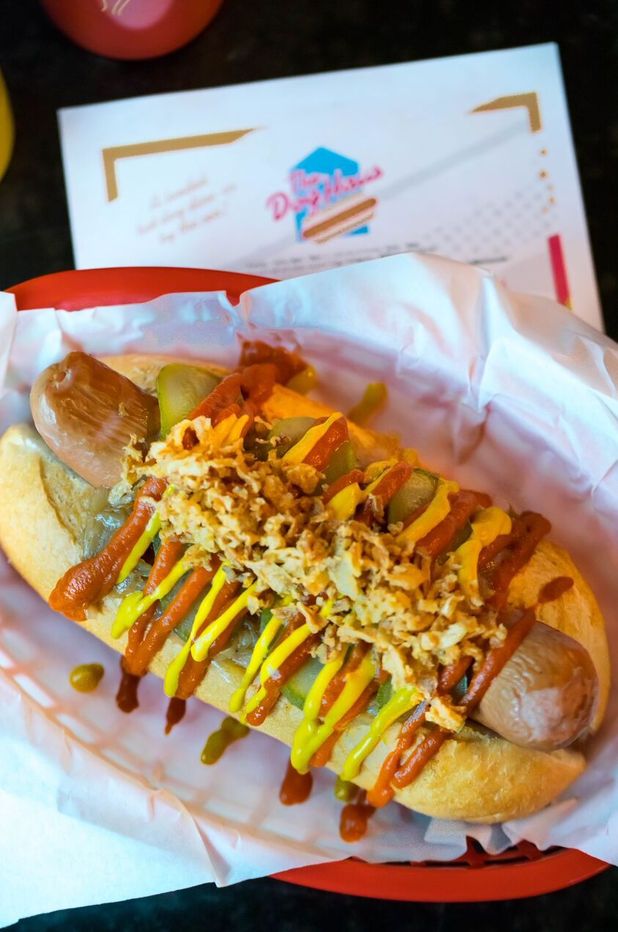 The Dog Haus
in Brighton serves every type of hot dog you can imagine
and
the yummy sides to go with!
If you can't wait to make the trip to the seaside destination, then why not recreate one of the gourmet treats at home?
The restaurant's head-chef has shared the recipe for the customer-favourite 'Happy Days' hot dog with us and it's every bit as drool-worthy as you'd expect...
Ingredients
Basic Ingredients:
Hot dog sausages
Sweet brioche bun
Mustard
Ketchup
Gherkins
2 large white onions, sliced
1 clove of garlic, sliced
2 sprigs of thyme
Housemade ketchup (optional):
1 tin crushed tomatoes
1 white onion, diced
2 cloves of garlic, sliced
2 tbsp tomato puree
½ tsp hot chilli powder
½ tsp cayenne pepper
½ tsp all spice
½ cinnamon stick
1 tsp smoked paprika
¼ cup of cider vinegar
Method
This recipe can be as simple or tricky as you wish!
For those of you looking for a quick snack, follow this method:
• Cook your hot dog sausages, as instructed
• While waiting for those to cook, caramelise the onions for your toppings
• Sweat off onions, garlic and thyme with oil salt and pepper. It's important to add the salt early as it extracts the natural sugars from the onions
• Cook on a medium heat until you start to see caramelisation on the bottom of the pan. Once you see this remove the pan from the heat and stir the onions through.
• Keep repeating this process until you get a nice consistent golden brown throughout all the onions
• When the onions are almost ready, put the brioche bun under the grill and lightly toast
• Place the hot dog sausage in the heated bun
• Add the gherkins on top, before adding mustard and ketchup
• Cover with caramelised onions
If you're feeling adventurous and want to challenge yourself in the kitchen, why not try making The Haus Dog's delicious housemade ketchup from scratch? Be warned though, this part can get a little tricky...
• Sauté onion & garlic in vegetable oil on a low to med heat until translucent
• Add spices and saute for a further 2-3 mins then add tomato puree
• Deglaze with vinegar and add tomatoes
• Cook on a very low heat for around 2 hours
• Put into a blender and blend until smooth
Voila, housemade ketchup!
Cook Time
Simple version: 20 minutes Tricky version: 2hr 20mins
As featured in this week's Buzz-O-Meter in Reveal Magazine - Issue 7