"Breakfast is the most important meal of the day," our mothers have always told us...
Why then, do so many of us skip breakfast on a regular basis?! Research from Quaker Oats shows that 29% of us favour a strong cup of tea or coffee in the mornings instead of preparing something to eat.
However, breakfast doesn't have to be a chore! Whether you have time to relax in the morning or if you're constantly in a rush, Quaker Oats has a scrumptious Apple-centric granola recipe that is ideal for everyone.
Don't believe us? Why not try it out for yourself...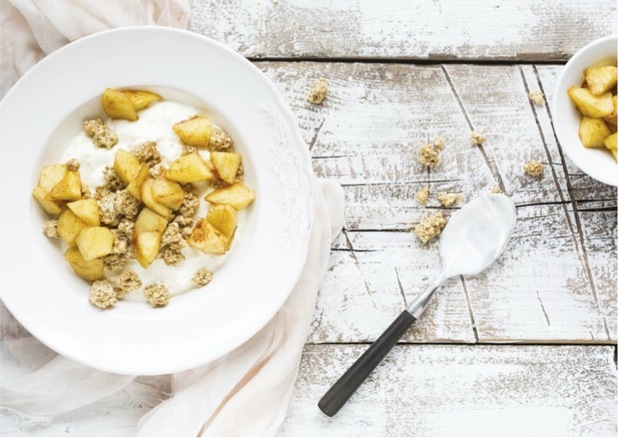 Ingredients
200 ml Greek yoghurt
40 gr Quaker Oats Granola
Original or Flakes
1 apple
1 tsp cinnamon
1 tbsp liquid honey or agave syrup
pinch of cardamom (don't overdo this; it can easily overpower the other flavours)
2 tbsp oil or coconut oil
Method
QUICK VERSION
Spoon the yoghurt into a soup plate or bowl. Add the Quaker Oats Granola.
Dice an apple and add this to the yoghurt and oats. Sprinkle it with a bit of cinnamon and cardamom and drizzle liquid honey or agave syrup on top for the finishing touch.
INDULGENT VERSION
Instead of using raw apple, add the diced apple to a bowl and toss this with the cinnamon and cardamom. Heat some oil or coconut oil in a small frying pan and add the diced apple.
Pour around a tablespoon of liquid honey on top and stir well. Sauté the apple mixture around 5 minutes.
Add this mixture to the yoghurt with Quaker Oats Granola.
Cook Time
5 minutes for indulgent version