We've all experienced that morning mayhem feeling when you're left running around your house getting dressed in a panic after hitting the 'snooze' button on your alarm one too many times.
When things are this hectic, it's easy to rush out the front door without having breakfast. Sadly, this is a common scenario in households across Britain, as research from Quaker Oats has found that a staggering one-in-five of us skip breakfast two to three times a week!
Tsk tsk....
In an effort to combat the nation's haphazard approach to breakfast, Quaker Oats has launched a #SuperStart campaign that aims to get everyone to embrace the first meal of the day and you don't have to be an expert in the kitchen to get involved. This simple but delicious recipe for Seed and Nut Porridge is the perfect way to start your day...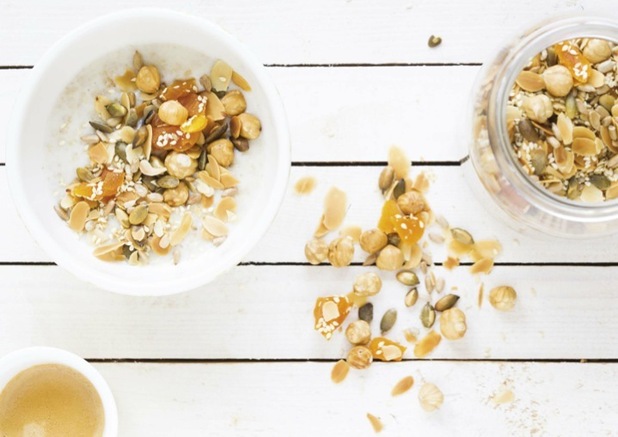 Ingredients
50 gr sunflower seeds
50 gr pumpkin seeds
50 gr sesame seeds
50 gr mixed nuts
100 gr dried apricots
27 g sachet Quaker Oats So Simple Original
Method
Pre-heat the oven to 200°C and spread the nuts and seeds evenly on a baking sheet. For the best roasting results, spread to form a single layer.
Roast in the oven for around 10 minutes, or until the mix is a golden brown. Allow to cool before transferring the mix to an airtight container (a clean jam jar is perfect for this).
Thinly slice the apricots and add these to the jar or container. Shake briefly and your mix is ready to use.
Prepare the sachet of Quaker Oats So Simple Original, following the directions on the pack.
Creating variations is easy by using almond milk one day and soy milk the next, for example. Don't be afraid to get creative!
Sprinkle your mix and fresh fruit on top of the porridge if you like for a quick and delicious breakfast.
Cook Time
10-15 minutes