Trying to lose weight but want to eat well and not fall prey to colds? This delicious Superfood Chowder recipe is just the ticket.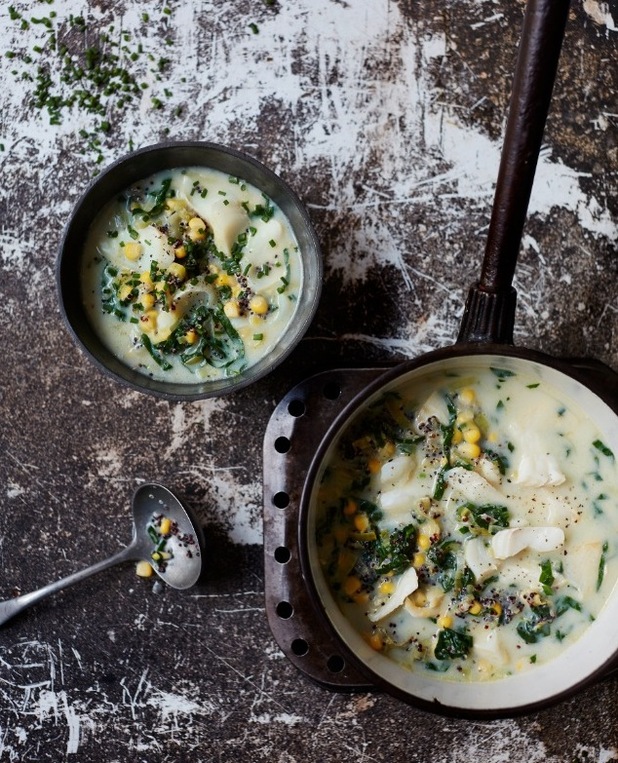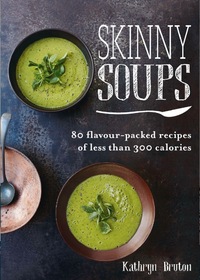 It's one of 80 super recipes of low calorie, healthy soups by food stylist and blogger Kathryn Bruton, in her new book,
Skinny Soups (right), £14.99, Kyle Books.
Soups are the new smoothies, it's said and, especially at this time of year they fill the comfort food gaps without having all the stodgy calories.
This chowder is a case in point - a lower cal version of the creamy classic.
Kathryn writes: ' Soya milk has a beautiful, delicate flavour, and makes this soup rich and creamy without being overly calorific.
'It also boasts a whole array of benefits, being rich in omega-3 and 6, high in protein and fibre, essential fatty acids, vitamins and minerals.
'Furthermore, it contains mostly unsaturated fat with zero cholesterol. A worthwhile addition to any diet!'
Ingredients
100g black quinoa
pinch of salt
350ml unsweetened soya milk
250g undyed smoked haddock
1 bay leaf
1 onion, peeled and halved
6 peppercorns
1 medium leek, finely sliced
1 garlic clove, chopped
1/2 tablespoon olive oil
1 fresh corn on the cob
750ml vegetable stock
150g spinach, finely shredded
10g chives, finely chopped
Method
1 Place the quinoa in a sieve and rinse under cold water. Transfer to a small saucepan, cover with 140ml water, add a pinch of salt, bring to the boil and cook with the lid on for 10 minutes. Remove from the heat, and leave undisturbed for 5 minutes, so that the grains absorb any remaining water.
2 Return to the sieve, and run under cold water again to cool completely. Set aside until needed.
3 Place the soya milk in a medium saucepan with the smoked haddock, bay leaf, onion halves and peppercorns. Slowly bring to the boil and simmer for 3 minutes. Remove from the heat, and leave to stand, covered, for 5 minutes. Strain and set the cooking broth aside.
4 Clean the saucepan, and return to the heat. Sauté the leek and garlic in the oil and 1 tablespoon water on a low heat for about 5 minutes, until soft and translucent.
5 Stand the corn upright and slide the blade of a sharp knife along the length of the cob, removing the kernels as you do so. Add
these to the saucepan, along with the reserved cooking broth and vegetable stock. Add the cob for added flavour. Bring to the boil, immediately reduce to a simmer and cook for 7–10 minutes.
6 When ready, remove the cobs and use a slotted spoon to skim any scum that has formed on the surface.
7 Add the cooked quinoa, along with the spinach and fish.Bring to just below boiling point, season to taste, garnish with some chopped chives and serve immediately.
Nutrition Information
Serves 4
Calories: 241 per serving
Carbs 22.5g Sugar 7g Protein 22g Fibre 4.6g Fat 6g Sat Fat 0.8g Salt 1.1g
Dieting? Check out more low calorie recipes in our gallery below.