These Mini Stilton Toasties are the perfect way to use your festive leftovers!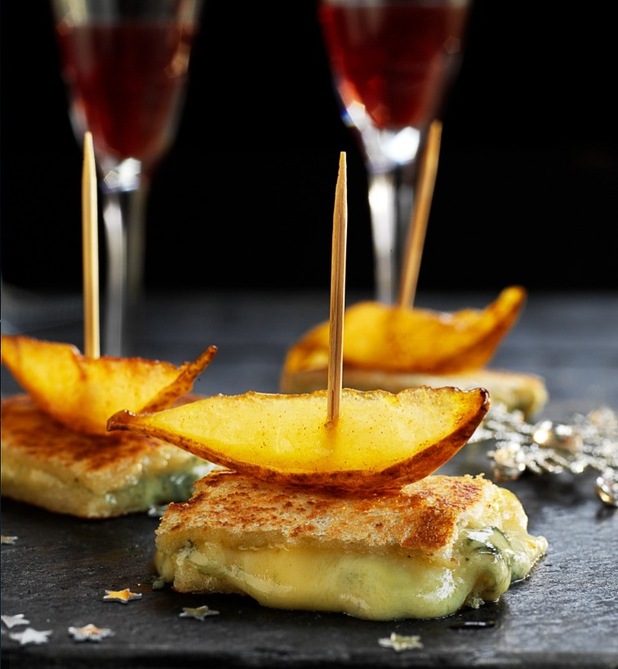 Sainsbury's
chefs Nicola Bramley and Shu Tan have created this delicious recipe as part on their
Canapends
campaign to reduce waste.
Ingredients
4 slices of white bread
60g stilton (ends)
60g butter
40g caster sugar
1 pear
Splash of port
Handful of rocket leaves
Method
1 Butter the bread on both sides and lay onto a board. Slice the stilton and use to top 2 slices of the bread – then place the other piece of bread on top to form sandwich.
2 Core and cut the pear into wedges and then halve each wedge. Melt the remaining butter in a frying pan, add the sugar and cook until beginning to caramelise. Add the pears and cook on each side until golden and softened (approx. 5 mins). Add the port and cook for a further 2-3 minutes.
3 Heat a large frying pan and then cook the sandwiches on each side for a couple of minutes until golden and crispy and the cheese has melted – pressing down lightly with a spatula.
4 Remove the sandwiches, cut of the crusts and the cut each into 4-6 rectangular pieces.
5 Top with a rocket leaf, followed by a piece of the pear and push a cocktail stick through to secure everything in place.
Check out more Christmas recipes on our gallery