He's usually known for his unconventional, quirky recipes but here Heston Blumenthal shares his secrets to Christmas classic - perfect roast potatoes.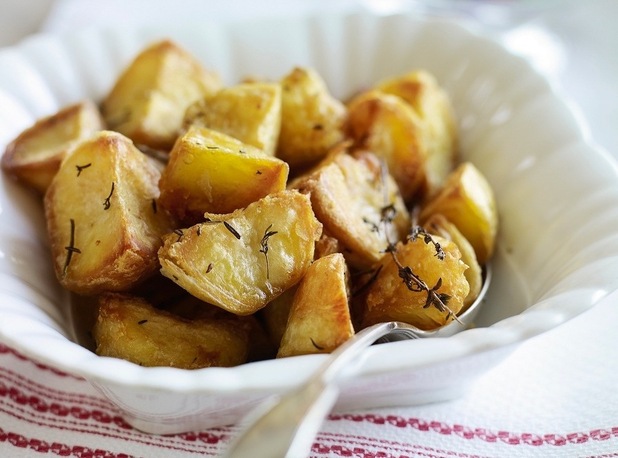 'The secret to perfect roast potatoes is sharp corners – rounded potatoes will not get as crispy as those with right angles, ' Heston reveals.
'Then pre-cooking the potatoes until they are almost falling apart. The generous amount of oil in the roasting pan will make for an extra-crispy crust.'
This is one recipe we'll be using all year around.
Ingredients
1.25kg large Maris Piper potatoes
150ml olive oil
8 garlic cloves, bashed
15g rosemary
15g thyme
Method
1 Preheat the oven to 180C, gas mark 4. Cut the potatoes into quarters and wash them in water to rinse off the starch.
2 Cover the potatoes with water in a large saucepan, bring to the boil and cook until very soft, drain carefully and leave to cool in the colander.
3 Pour the olive oil into a roasting tray large enough to hold thepotatoes in one layer, then add the potatoes. Stir to coat in the oil and place in the oven for 1 hour, gently turning every 20 minutes.
4 Add the garlic, rosemary and thyme to the tray and return to the oven for 15–20 minutes or until the potatoes are golden brown and crisp all over. Drain on kitchen paper and season with salt.
Check out Heston's recipe for roast leg of lamb
HERE
There's more Christmas recipes in our gallery below...
Copyright: Seasonal Berries