We love this recipe from Spanish-born chef Omar Allibhoy - an easy to make and very tasty Tortilla with Spinach and Jamon Iberico.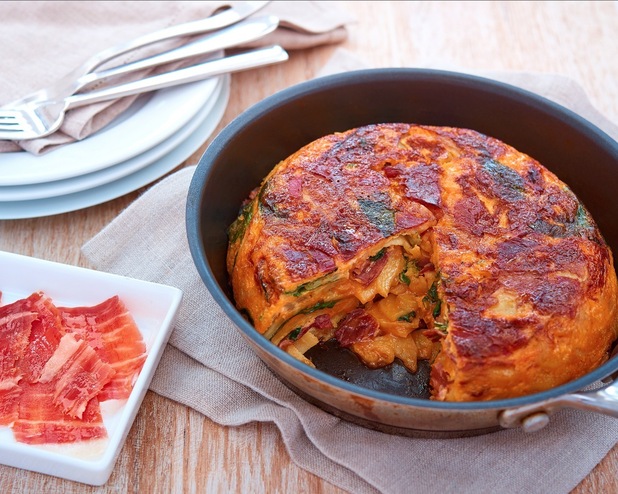 Ingredients
2 big size good potatoes for frying (or 3-4 medium size )
1 Spanish onion
3 big potatoes (1kg)
100g of baby spinach
50g of jamón ibérico
8 free range eggs
Salt to season
Spanish olive oil for frying
Method
1. Peel, wash and thinly slice the potatoes and Spanish onions in half moon shape slices.
2. Pour enough olive oil in a deep frying pan to cover all the onion and potatoes (but without them) over a high heat.
3. Once the oil is hot and when dropping a slice of onion it start frying immediately then you can add all the onion.
4. Cook it for around 5 minutes until is transparent and then add the sliced potatoes.
5. Cook them, stirring from time to time for at least 15 minutes until they are soft and cooked throughout.
6. Drain the potatoes from the oil with a colander (keep the oil for other uses) and mix with the egg, baby spinach, thinly chopped jamón ibérico and season with salt.
7. To make the tortilla place a non-sticking pan over a medium heat and drizzle a bit of olive oil.
8. Pour the tortilla mix inside the pan and lower the heat to a minimum. After 3 minutes and with the help of a plate (always wider than the pan ) cover the pan and holding it tight with your hand flip the side of the tortilla and slide the 'one-side-cooked' tortilla back into the pan for an extra 3 minutes.
Note: If it is the first time you flip a tortilla, you better practice with the plate and an empty pan first.
9.Depending on the size and depth of the pan in relation with the amount of tortilla mix, it will take longer or shorter in being cooked. I recommend to eat the tortilla when still runny in the middle.
Check out more super recipes from Spain in our gallery
Copyright: Tapas Revolution/Ebury Press