We love this easy but oh so tasty soup using Jamon Iberico from our favourite Spanish chef, Omar Allibhoy.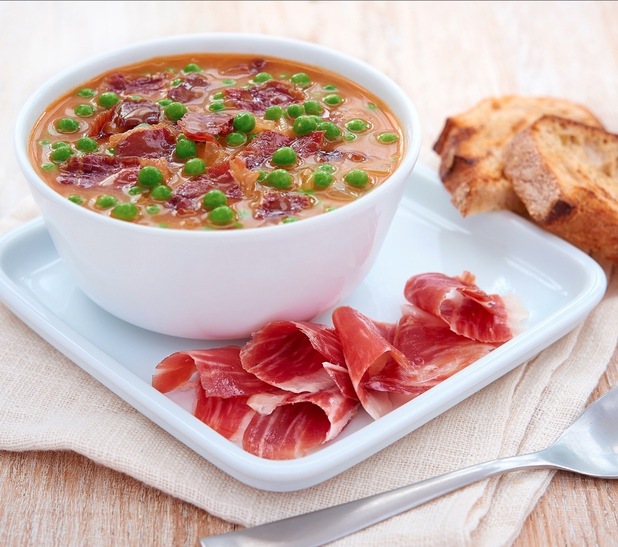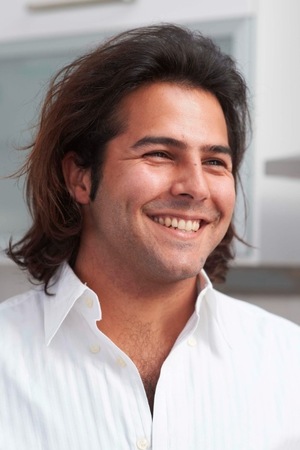 And we are lucky enough to have tasted it first hand - when Omar (right) popped in to share some of his recipes using THE ingredient of the moment:
Jamon Iberico.
Translated as 'Iberian Ham', this is a Spanish delicacy: sumptiously cured ham aged between 18 and 36 months, made by acorn fed pigs which roam free in the south and west of Spain. You will see legs of the ham hanging from the ceilings at all good Spanish eateries.
Here, as in Spain, it's widely enjoyed sliced and eaten on its own but it can also be used to add a subtle but distinct flavour to a whole range of dishes, as Omar does in this recipe.
To the palate Iberian ham tastes both sweet and salty, while the fat – like Japan's wagyu beef is intermuscular rather than insulating – gives the ham the unique nutty flavour that sets it apart and makes it taste so good.
Jamon Iberico can be pricey, but
Lidl
is doing a special offer on whole legs of the ham this christmas if you want to treat yourselves...
Ingredients
4 tbsp of Spanish extra virgin olive oil
2 slices of rustic bread
1 bay leave
3 garlic cloves
1 Spanish onion
50g of jamón ibérico
1 tea spoon of sweet pimenton
1 tbsp of plain flour
1 tbsp of Sherry vinegar
600ml of chicken stock
500g of frozen green peas
salt and black pepper
Method
1. In a medium size sauce pan pour 1 tbsp of the oil and fry over medium heat the bread on both sides and reserve.
2. Pour the remaining oil and add the finely chopped garlic, onion and jamón ibérico and let it fry for 10 minutes.
3. Sprinkle the sweet pimenton and the flour and let it toast for 1 minute. Pour the vinegar and form a roux with it.
4. Bring the heat to its highest and stir constantly while slowly pouring the chicken stock so that the roux dissolves in the stock without forming lumps.
5. Add the frozen peas, season with salt and pepper and let it boil all together for 6 minutes.
6.Add the sliced bread and serve with some slices of jamón ibérico on top.
Cook's tip:
If you can't get hold of any of this deluxe ham, feel free to experiment with similar substitutes. This warming, rich and healthy soup takes just 20 minutes to make.
Love soup? Check out our gallery below
Copyright: Tenderstem