Traditional Christmas cake can be heavy - so how about making these adorable Rum Christmas Cake Muffins instead?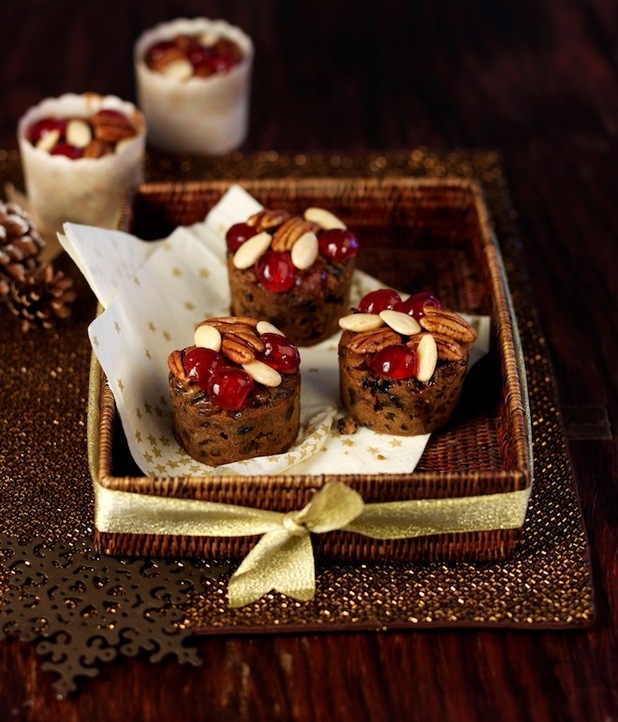 Ingredients
150g currants
150g sultanas
150g raisins
100g glace cherries, halved
100ml dark rum
100g dark muscovado sugar
2 eggs, beaten
Finely grated zest and juice of 1 orange
150g plain flour
Pinch salt
1 tsp ground mixed spice
50g caster sugar
Pecan halves, blanched almonds and glace cherries, to decorate
Method
1. Put the currants, sultanas, raisins and glace cherries into a bowl. Add the rum, stirring well. Cover and leave in a cool place for up to 2 days, though at least overnight. This plumps up the fruit to make the muffins deliciously moist.
2. Preheat the oven to 160°C/fan oven 140°C/Gas Mark 3. Put 8 paper or foil muffin cases into a muffin tin.
3. In a large mixing bowl, beat together the butter and sugar until light and fluffy, using a wooden spoon or hand-held electric mixer. Gradually add the eggs, beating well between each addition. Stir in the orange zest and orange juice. (Don't worry if the mixture curdles).
4. Sift the flour, salt and mixed spice into the bowl, folding them through with a large metal spoon. Add the soaked dried fruits and stir thoroughly. Share the mixture between the muffin cases. Bake for 50 minutes in the centre of the oven. Cool completely.
5. Put the caster sugar into a saucepan with 100ml water. Heat gently to dissolve, then boil for 1- 2 minutes. Brush over the cakes and arrange the nuts and cherries on top. Brush again with the glaze – be careful as the glaze is really hot!
Prep Time
30 minutes plus soaking
Cook Time
50 minutes
Check out more festive recipes in our gallery below
Copyright: Seasonal Berries