With Halloween upon us, why not try out this gorgeous vegetarian Halloweeny Linguine recipe from Gousto? With chunks of orange butternut squash and packed full of flavour, it will look perfect on your Halloween table and, more importantly, taste amazing!
This recipe is for two and takes around 40 minutes to make.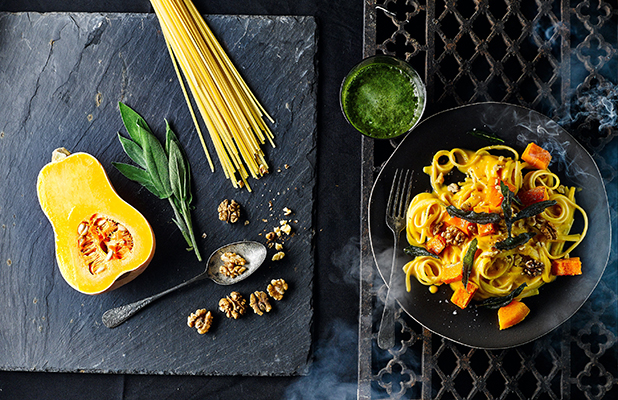 Ingredients
200g linguine
10g fresh sage
80g walnuts
1 butternut squash
1 garlic clove
1 onion
Salt
Pepper
Olive oil
Vegetable oil
Milk
Method
1.
Preheat the oven to 220°C/ 200°C (fan)/ 425°F/ Gas 7. Peel the butternut squash and cut into halves then remove the seeds and cut into cubes (approx. 2cm)
2.
Place the squash on one or two non-stick baking tray(s) (alternatively, line with baking paper or aluminum foil) and coat well with 2-4 tbsp of vegetable oil, then season to your taste with salt and pepper. Oven roast for 30 min or until the squash is tender, turning halfway through the cooking time.
3.
Heat a dry wide-base pan on a medium heat. Once hot, add the walnuts to the dry pan and cook for 3 min, or until lightly toasted, checking frequently. Meanwhile, separate the sage leaves. Chop the stems of the sage leaves finely for step 5.
4.
Remove the toasted walnuts and set aside to cool for step 6. Return the walnut pan to a high heat and add 2-4 tbsp of olive oil. Once hot, add the whole sage leaves flat in the oil and cook for 1 min per side, or until crispy, turning halfway. Transfer the fried sage to some kitchen roll and sprinkle with salt to taste.
5.
Boil a kettle. Peel, half and slice the onion(s) finely. Return the sage pan to medium heat and add the sliced onions and chopped sage stems. Add a pinch of salt and cook on a medium heat for 12-15 min or until softened and caramelised.
6.
Meanwhile, cook the pasta in a pot of boiling water and salt (optional) for 8-10 min or until the pasta is cooked to your taste, stirring occasionally. Reserve 100ml (200ml) of pasta water, then drain the pasta for step 8. Meanwhile, peel and chop (or grate) the garlic and roughly chop the walnuts for garnish.
7.
Remove the squash from the oven and add 2/3rds of it to a processor (reserve the remainder for garnish in step 8) with 100ml (200ml) of the starchy pasta water, and 100ml (200ml) of milk. Add the chopped garlic and blitz into a smooth puree.
8.
Add the puree and pasta to the pan of caramelized onions. Stir to coat completely (adding more water to loosen if needed) and serve with the remaining roast squash, crispy sage and toasted walnuts scattered over and enjoy!
To get this recipe and the fresh ingredients delivered to your door visit: https://www.gousto.co.uk/RELISH – first time customers following this link will receive a special discount! Gousto is the home delivery recipe kit service. Through its website and iOS mobile app, you can choose 10 changeable meat and vegetarian recipes each week and have the fresh, quality ingredients to create them delivered straight to your door.