This recipe for home made rye pizza is absolutely delicious - and easier than you'd think.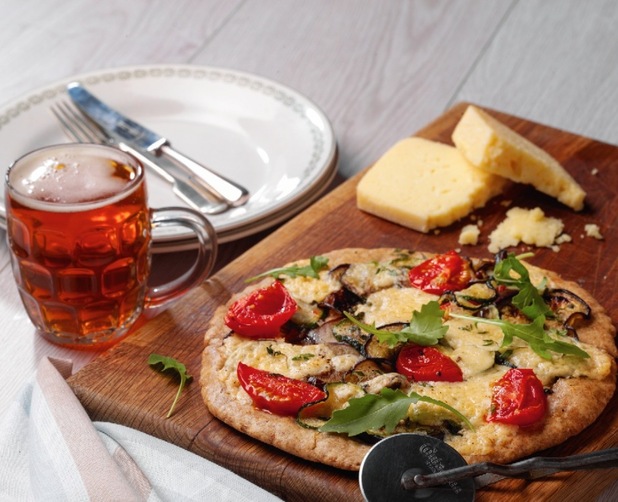 Rye is being increasingly substituted for plain flour in healthy eating recipes and it gives a nutty whole wheat flavour to this lovely thin pizza base.
We've used veggies only to pair with our glorious topping of aged havarti Danish cheese, but you can add meat toppings, like pepperoni if you fancy them. Experiment and enjoy!
Ingredients
Dough:
25 g fresh yeast
300 ml lukewarm water
200 g rye flour
200 g plain flour
5 g flaky sea salt
Topping:
2 aubergines
2 courgettes
50 ml olive oil
6 tomatoes
8 sprigs of thyme
½ bunch of rocket
Salt and freshly ground pepper
Method
1. Dissolve the yeast in the lukewarm water, then add the flour and salt. Mix to make a dough.
2. Knead the dough on a floured work surface until smooth.
3. Place the dough in a large bowl and cover with a tea towel. Leave to rise for 2 hours.
4. While the dough is rising, cut the aubergines and courgettes into slices.
5. Add a little bit of oil to a frying pan and cook the aubergines and courgettes on both sides.
6. Sprinkle a little salt over the vegetables and then set aside.
7. Preheat the over to 220 degrees C.
8. Roll out the dough into 4 evenly sized, small pizzas and place them on a baking tray lined with non-stick baking parchment.
9. Brush the pizza bases with olive oil and begin layering the courgette and aubergine slices and then sprinkle with thyme.
10. Cut the tomatoes into wedges and place them evenly over the pizza.
11. Finally, add the sliced Castello Aged Havarti covering the vegetables and sprinkle it all with pepper.
12. Place the pizzas in the oven to cook for 20 - 25 minutes at 220 degrees C.
Nutrition Information
Serves 4
PS: We paired our pizza with a pint of Adnams Jack Brand Crystal Rye IPA which really compliments the flavour of the cheese.
Check out more veggie recipes in our gallery below...
Copyright: Morrisons