There's nothing quite like making your own home made jam - but it's messy, sticky and complicated, right?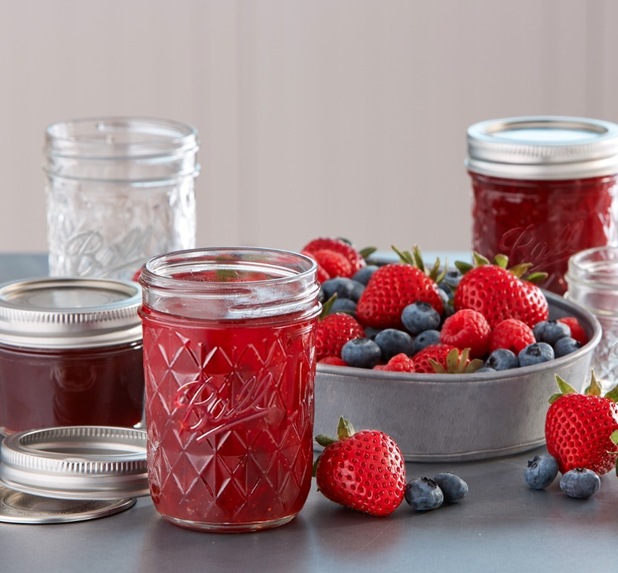 Wrong!
I learnt how to make a delish strawberry jam in under an hour, without any mess... just a delicious result thanks to US preserves experts Ball brand, who in typical American style, have taken all the stress out of preserving and made it sooooo easy.
I used
The Ball ® Home Preserving Starter Kit
to make the process that much easier (and it's a fab Xmas pressie too!).
But, if you're confident in the kitchen, you can wing it yourself. The speed here comes from using a jam setting mix with added natural pectin which you need to set the jam.
Ingredients
2 L strawberries (about 1.80 to 2.25 kg)
240 ML water
3 tablespoons Ball Low or No-Sugar Needed Jam Setting Mix with Pectin Sweetener, if desired
Method
1. Wash strawberries under cold running water; drain. Remove stems and caps from strawberries. Crush strawberries one layer at a time using a potato masher.
2. Combine strawberries, water, and pectin in a large saucepan, stirring to blend in pectin. Bring mixture to a boil over high heat, stirring constantly. Add sweetener according to pectin instructions, if desired.
3. Return mixture to a boil; boil hard for 1 minute, stirring constantly. Remove mixture from heat if a gel begins to form before 1-minute boil is completed. Skim off foam if necessary.
4. Ladle hot jam into a hot jar, leaving ¼ inch (0.65 com) headspace. Remove air bubbles. Clean jam rim. Centre lid on jar and adjust band to fingertip-tight. Place jar on the rack elevated over simmering water (80°) in hot water bath preserver. Repeat until all jars are filled.
Nutrition Information
Yield: About 6 (240mL) jars
Processing & sterilsing your jam jars
Lower the rack into simmering water. Water must cover jars by 2.50cm. Adjust heat to medium-high, cover and bring water to roiling boil. Process 240 mL jars 10 minutes. Turn off heat and remove cover. Let jars cool for five minutes. Remove jars, do not retighten bands if loose. Cool 12 hours. Label and store jars.
Check out more recipes and tips at
freshpreserving.co.uk
For exclusive competitions and amazing prizes visit Reveal's Facebook page NOW!