We *heart* this easy chocolate cake recipe - no baking required! Just layer on the delicious ingredients and leave to set in the fridge.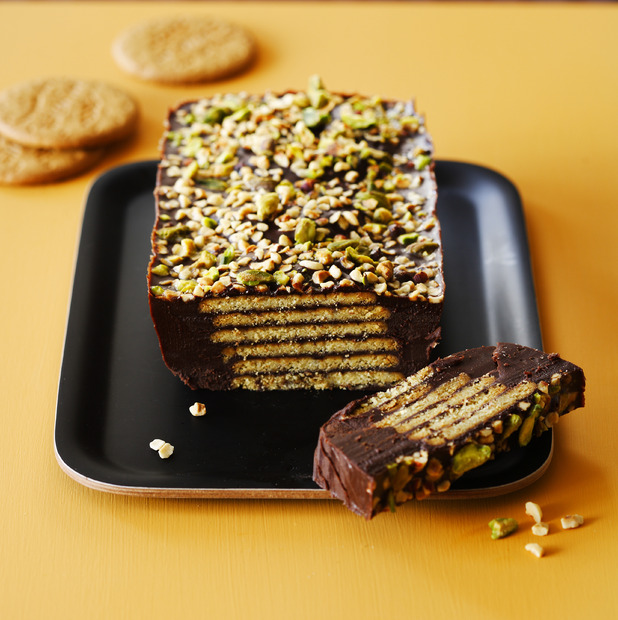 It's just the sort of decadent chocolately treat that's perfect for a cosy weekend curled up in front of the TV.
Ingredients
20 minute preparation, refrigerate for 60 minutes
200g McVitie's Digestives biscuits
110g whole pecans, roughly chopped
110g pistachio nuts, peeled
150g unsalted butter
1tbsp golden syrup
300g good quality dark chocolate (at least 70% cocoa)
Method
1.Break half of the McVitie's Digestive biscuits into small pieces in a bowl.
2. Add the majority of the pecans and pistachios, setting some aside for garnishing the top of the cake.
3. Melt the chocolate, golden syrup and butter in a glass bowl over a pan of simmering water. Once melted, add the biscuit and nut mix to the chocolate.
4. Line a loaf tin with clingfilm, leaving extra film at the edges so that you can turn out the cake later.
5. Halve each of the remaining biscuits. Arrange into three piles and spread a tiny amount of the mixture in between each layer. Carefully place each pile in the tin.
6. Slowly pour the mixture into the tin and over the biscuit piles. Put a piece of greaseproof paper over the mixture and use the palm of your hand to compress it down firmly into the tin.
7. Sprinkle the top with the extra nuts and leave in the fridge for about one hour to firm up.
8. Use the overlapping clingfilm to remove the cake from the tin and cut into slices to serve.
Nutrition Information
Serves 8
For more chocolate recipes, check out our gallery below!
Copyright: Martin Poole for Constable Books
Not in the mood to cook? Why not head out for something to eat and get 50% off or 2-FOR-1 off you bill across your starter mains and deserts with a tastecard. To get 50% off a 1-year tastecard membership
CLICK HERE
.
*Reveal offer* Get 50% off a 1-year tastecard membership and take advantage of 50% off or 2-FOR-1 off at over 6,500+ restaurants across the UK.
CLICK HERE
.