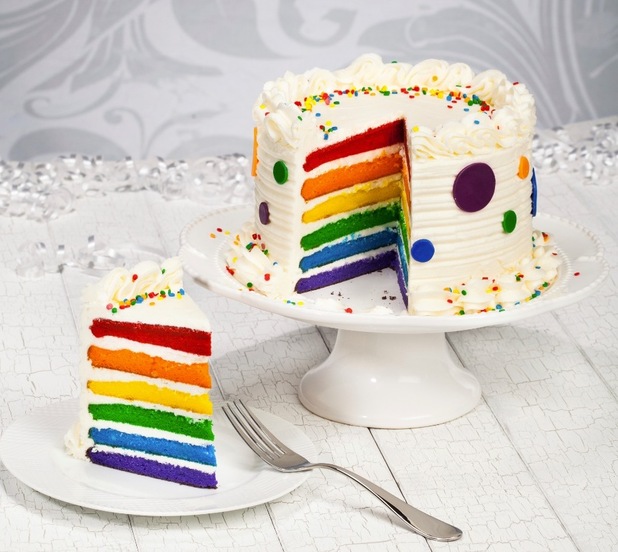 An impressive centrepiece at any party, this rainbow cake is surprisingly easy to make and totally gluten-free!
Ingredients
For the cake
200g Caster Sugar
220g Butter
Your choice of 6 food colourings
4 small eggs
1.5 tsp vanilla extract
For the butter cream
400g icing sugar
200g butter
For decoration
Gluten Free sprinkles
Method
1 Pre heat your oven to 180°C. Put the sugar and butter together in a bowl and cream until pale.
2 Beat in the eggs and sift in the flour. Separate your mixture evenly in to six bowls. Add a different food colouring to each bowl and transfer to six cake tins.
3 Place in to the oven and cook for 15 minutes or until the skewer comes out clean. Leave the cakes to cool on a wire rack
4 Mix together the icing sugar and butter. Once the cakes are cooled layer the cakes with buttercream in-between each layer. Spoon the buttercream on to the top of the cake using a spatula to coat the sides.
For more information visit the
Udi's website
.
Not in the mood to cook? Why not head out for something to eat and get 50% off or 2-FOR-1 off you bill across your starter mains and deserts with a tastecard. To get 50% off a 1-year tastecard membership
CLICK HERE
.
*Reveal offer* Get 50% off a 1-year tastecard membership and take advantage of 50% off or 2-FOR-1 off at over 6,500+ restaurants across the UK.
CLICK HERE
.
More amazing cakes to make - check out our gallery below
Copyright: Seasonal Berries