Skip the Sunday trip to the pub and enjoy this boozy burger from the comfort of your own home!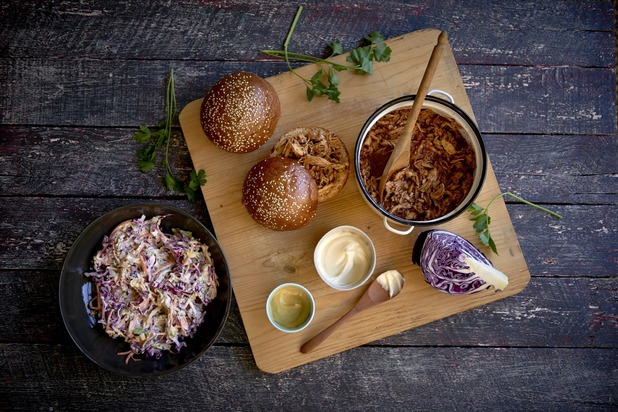 Ingredients
2 cups Bundaberg Ginger Beer
1 cup tomato sauce
1⁄2 cup hoisin sauce
1⁄4 cup orange juice
2 tbsp Worcestershire sauce
2 tbsp apple cider vinegar
2 tbsp lime juice
2 tbsp honey
1⁄2 tsp onion powder
1⁄2 tsp 5-spice powder
1 clove garlic, finely chopped
Sea salt and fresh ground black pepper
1 roast chicken, skin removed and meat shredded
Method
1. In a medium sized pot, combine all ingredients, except shredded chicken
2. Bring to the boil stirring frequently, then reduce heat and simmer until sauce has
thickened, stirring occasionally
3. Add shredded chicken, season with salt and pepper to taste and stir though. Keep
warm to serve
4. Make burgers with bread of your choice and top with any combination of salad,
coleslaw, mayonnaise or mustards you care to use
Nutrition Information
Serves 4-6
Not in the mood to cook? Why not head out for something to eat and get 50% off or 2-FOR-1 off you bill across your starter mains and deserts with a tastecard. To get 50% off a 1-year tastecard membership
CLICK HERE
.
*Reveal offer* Get 50% off a 1-year tastecard membership and take advantage of 50% off or 2-FOR-1 off at over 6,500+ restaurants across the UK.
CLICK HERE
.
For other chicken recipes, visit our gallery!
Copyright: Quark