Spicy chilli gives this easy tostada recipe some kick and it's bound to warm up chilly winter nights.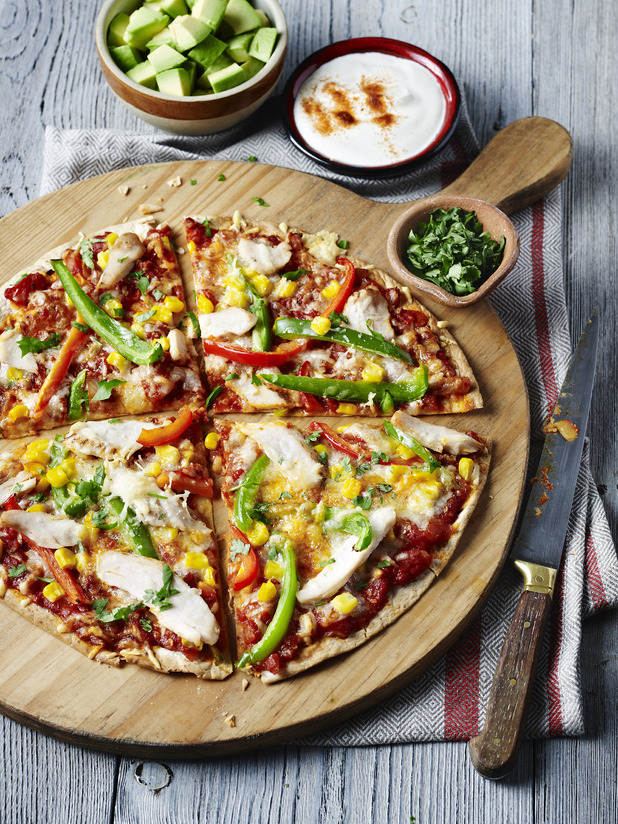 Doesn't it look yummy?
Ingredients
For the smoked chilli sauce:
1 tablespoon olive oil
1 onion, chopped
1 teaspoon Very Lazy Smoked Garlic
2 teaspoons Very Lazy Smoked Chopped Chillies
400g can chopped tomatoes
1 tablespoon tomato purée
1 teaspoon dried oregano salt and freshly ground black pepper
2 large wheat tortillas, about 26cm
125g Manchego or mozzarella cheese, grated
125g chargrilled cooked chicken pieces
75g sweetcorn kernels
1Ž2 green pepper, deseeded and cut into strips
1Ž2 red pepper, deseeded and cut into strips
To serve: Freshly chopped coriander, soured cream, chopped avocado.
Method
1. Preheat the oven to 200˚C, Gas mark 6.
2. To make the sauce, heat the oil in a medium pan and add the onion, cook for 2-3 minutes until softened, then stir in the garlic and chillies and cook for a further minute. Stir in the chopped tomatoes, tomato purée and oregano, bring to the boil, and then reduce the heat and simmer, uncovered, for 10 minutes until thickened. Season to taste. Allow to cool slightly.
3. Place each tortilla on a large non-stick baking sheet and divide the tomato sauce between the 2 tortillas, spreading it out to the edges. Sprinkle with half the cheese, then arrange the chicken, sweetcorn and peppers over each and scatter over the remaining cheese.
4. Bake for about 12 minutes until golden and crispy.
5. Serve immediately sprinkled with the coriander and with some cooling soured cream and chopped avocado.
Prep Time
10 mins
Cook Time
12 mins
Nutrition Information
Serves 2 as a main or 4 as a snack
For more quick and easy recipes, take a look at our gallery below!
Copyright: Simply Beef