It's biscuit week on the Great British Bake Off and we'd be lying in if we said we weren't partial to a biccy or two!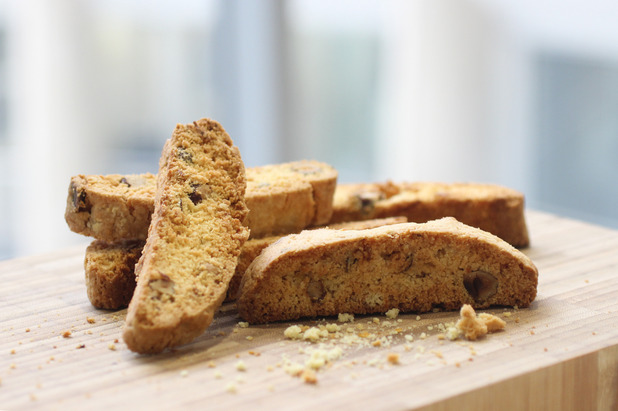 We're taking inspiration from our friends in Italy with this easy Biscotti recipe and apparently they're best served with coffee...perfect for a mid-afternoon treat.
Ingredients
75g Stork block
150g plain flour, sieved
1 level teaspoon baking powder
75g polenta flour or ground almonds
100g caster sugar
1 medium egg, beaten
Zest of 1 orange and 2 tablespoon of juice
75g whole peeled hazelnuts, toasted
Method
1.Preheat the oven to 180°C, 160°C fan oven, Gas mark 4. Line a large baking sheet with baking parchment.
2.Place flour, baking powder and polenta or ground almonds into a bowl and rub in Stork until mixture resembles fine breadcrumbs. Stir in sugar, nuts and orange zest and then stir in egg and orange juice to mix to form a soft dough.
3.Turn out on to a well-floured surface and with floured hands, shape into a 25-30cm long log.
4.Place on to prepared baking sheet. Bake in preheated oven for 25-30 or until golden. Remove from oven and reduce temperature to 150°C, 130°C fan oven, Gas mark 2.
5.Leave the log to cool for 10 minutes, then using a serrated knife cut into 24 slices. Place back onto the baking sheet in a single layer and return to the oven. Bake for 35-40 minutes. Turn the oven off and leave to cool in the oven.
Prep Time
25 mins
Cook Time
1 hr to 1 hr 15 mins
Nutrition Information
Servings: 24
For more recipes from your Great British Bake Off favourites, check out our gallery below
Copyright: DK.com