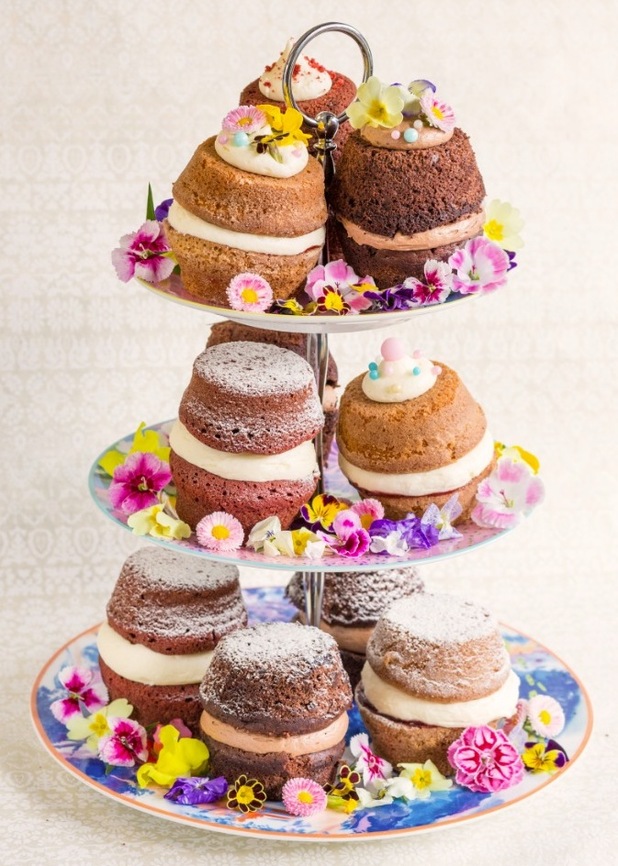 There are many ways you can bake mini layer cakes, some of which involve costly mini layer cake tins. We like the easy and convenient way created by
Molly Bakes
which makes such pretty shaped cakes.
Pretty much any cupcake recipe will work for this. Decorate with a small dollop of buttercream and pretty pearls or edible flowers or simply dust with icing sugar.
Makes 12 mini cakes
Ingredients
For the sponges:
375g self-raising flour
2tsp baking powder
1/2 tsp bicarbonate of soda
1/2 tsp salt
250g unsalted butter, softened
300g caster sugar
2 tsp vanilla extract
4 large eggs
250ml milk
For the buttercream:
125g unsalted butter, softened
250g icing sugar, sifted
4 tbsp milk, room temperature
1 tsp vanilla extract
Raspberry or strawberry jam
Decorations of your choice
You will need:
12 hole cupcake tins
Method
1 Preheat the oven to 180 degrees C. Grease the muffin tins and dust with flour. Sift together the flour, baking powder, bicarbonate of soda and salt.
2 Beat the butter until pale, add the sugar and beat on high speed until mixture light and fluffy. Beat in the vanilla.
3 Add each egg one by one on medium speed, beating until fully incorporated. Leave a minute between each addition.
4 Add half the flour and stir gently until fully combined, add half the milk then repeat with the remaining flour and milk.
5 Using an ice cream scoop fill each hole halfway and bake in the oven for about 14-18 minutes until a cocktail stick inserted into the centre comes out clean. Remove from the oven and place on a cooling rack. Once fully cooled place in the fridge to chill this will make removing them and levelling them easier.
6 To make the buttercream, beat the butter until pale, then add the sugar gradually and beat until light and fluffy. Mix in the vanilla then add the milk until fully combined. Transfer the buttercream into a small bowl, cover and set aside while you prepare the cakes.
7 Remove the cakes from the tins and cut any domed tops off with a knife to level them. Pipe the buttercream onto half the cakes and spread jam onto the remaining half. Sandwich together.
8 To decorate you can blob the top of the cakes with buttercream and add edible flowers, pearls, sprinkles or simply dust with icing sugar.
9 Note: when making chocolate mini layer cakes dust the tins with cocoa powder instead of flour.
10 To serve place them on a pretty cake stand. We love our Beatrix cake stand from
Oliver Bonas
.
Check out our gallery of cupcake recipes below
Copyright: Square Peg