Check out this easy recipe for gluten-free fish and chips. It tastes as good as it looks!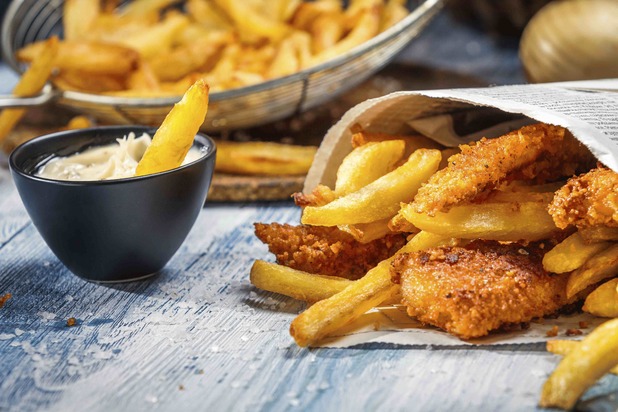 Ingredients
For the Fish
1 Lemon
1 tbsp Olive Oil
400g White Fish (we recommend cod but any will do)
1 egg
For the Chips
1tbsp Vegetable Oil
½ tsp paprika
2 large potatoes
Method
1 Heat the oven to 200C/ 180C Fan/ Gas 6. For the chips – pour the vegetable oil into a baking tray and warm in the oven for 3 minutes. Cut the chips into 1cm thick chips and toss in a bowl with the paprika and some salt and pepper. Spread evenly on the tray and cook for 40 minutes shaking them half way through.
2 For the Fish - Beat the egg in a shallow dish. Blend the gluten-free bread into tiny breadcrumbs and place on plate. Using a grater, finely zest the lemon in with the breadcrumbs. Slice the fish into 10 pieces and dunk into the egg mix. Then transfer the fish to the breadcrumb plate and roll in breadcrumbs until completely covered.
3 Brush a baking tray with the oil and place the freshly rolled fish in breadcrumbs on. Squeeze the lemon over the fish so they cook with the juices and embrace the flavour. Bake them at the same heat as the chips for 20 minutes until golden.
4.For fun, serve them mixed together in greaseproof or parchment paper, then for extra effect, wrap that in Newspaper. Season with salt and vinegar to taste and Enjoy!
Not in the mood to cook? Why not head out for something to eat and get 50% off or 2-FOR-1 off you bill across your starter mains and deserts with a tastecard. To get 50% off a 1-year tastecard membership
CLICK HERE
.
*Reveal offer* Get 50% off a 1-year tastecard membership and take advantage of 50% off or 2-FOR-1 off at over 6,500+ restaurants across the UK.
CLICK HERE
.
Check out more delish gluten-free recipes in our gallery below
Copyright: Lurpak