A perfect summer recipe to pay homage to our favourite little green nut! This Pistachio Chocolate Tart with Caramel Mascarpone & Ganache is perfect for summer get togethers.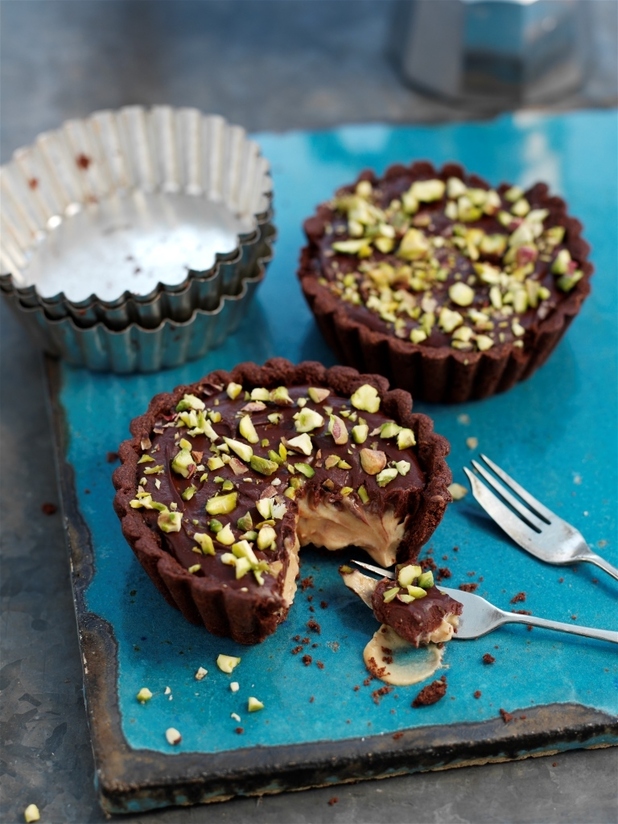 Doesn't it look amazing?
Ingredients
Tart Shell
225g butter
100g caster sugar
Pinch Salt
280g plain flour
60g cocoa powder
60g Ground Pistachio nuts
Caramel Mascarpone Ganache
225g mascarpone cheese
50g caramel sauce (see recipe below)
180g chocolate, chopped
180g single cream
Caramel Sauce
125ml water
300g white sugar
25g corn syrup
250g butter
225g double cream
Method
For the Tart Shell:
1. Combine in the bowl of an electric mixer until dough forms. Gently press into desired tart pan or individual tartlet pans. Place in freezer until firm.
2. Place a small square of parchment paper on top of the dough and place either baking weights or dried beans on top.
3. Bake in 400C / 180C/gas mark 6 oven until sides are slightly firm, approximately 10 minutes. Remove from the oven and let cool.
4. Remove weights and bake again to crisp, approx 5 minutes. If the dough is not baked enough it will be challenging to remove from pans
For the Caramel Mascarpone Ganache:
1. Combine mascarpone and caramel sauce in the bowl of an electric mixer with a whisk attachment. Whip until stiff.
2. Spread in the bottom of the tart shell(s) and refrigerate.
3. Bring cream to a boil in a saucepan, pour over chopped chocolate in separate bowl. Starting from the middle stir until cream is incorporated.
For the Caramel Sauce:
1. In a saucepan combine, in this order, water, sugar, and corn syrup. Bring to a boil and cook until syrup reaches desired golden colour.
2. While the sugar is boiling have a cup of water and brush near. Occasionally brush the sides of the pot with water to prevent the sugar from crystallizing.
3. Once sugar syrup is golden carefully add the butter and heavy cream while stirring. Add liquid slowly to prevent splashing, the mixture will also bubble so make sure your arms are protected.
4. Once all cream and butter is added remove from saucepan and place in desired storage container. Leave at room temperature stirring occasionally, once cool place in refrigerator to cool completely.
Assembling the Tart:
1. Gently scoop chocolate cream mixture (ganache) onto the caramel mascarpone mixture already in tart shells. Make sure ganache is warm enough so that it forms a smooth top.
2. Refrigerate the finished tart until ready to serve. Top with toasted, salted pistachios.
Nutrition Information
Serves 8
Recipe from the American Pistachio Growers
For more scrumptious chocolate recipes, check out our gallery below:
Copyright: Martin Poole for Constable Books