Why fork out for a takeaway when you can make this delish Thai Chicken and Cashew curry in a few minutes?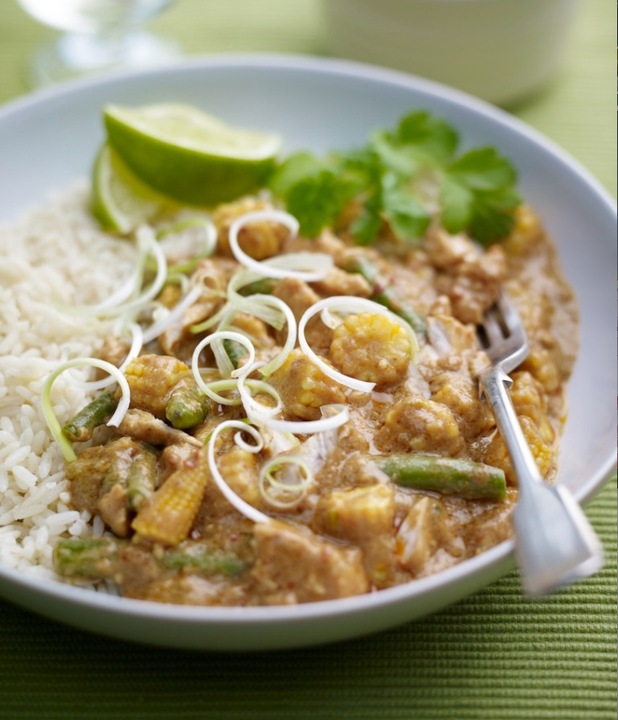 Ingredients
2 tsp nut oil
8 spring onions, 6 finely sliced, 2 reserved for decoration
3 tbsp Thai red curry paste
4 tbsp Meridian crunchy cashew butter
400g cooked chicken, torn into bite sized pieces
400ml coconut milk
1 tbsp soy sauce
200ml chicken stock
200g baby corn cut into 1cm disks
150g green beans, trimmed and cut in half
Small bunch of coriander
1 lime cut in wedges
Method
1
In a heavy bottom pan heat the oil and gently cook the sliced spring onions for 2 minutes. Add the curry paste and cashew butter, cook stirring for 1 min until fragrant then add the chicken. Stir to coat with the paste.
2
Pour in the coconut milk, soy, syrup and stock, stir and bring to the boil. Add the corn and beans and simmer for 10 minutes. If the curry becomes too thick add a little more stock.
3
Cut the two remaining spring onions into 5cm sections then slice lengthways into narrow ribbons and drop into iced water for 5 -10 minutes. They will curl and look pretty for decorating the dish.
4
When the curry is cooked, check the seasoning then serve with Jasmine rice and topped with the spring onion curls, coriander leaves and a wedge of lime.
Prep Time
5 mins
Cook Time
20 mins
Take a look at more Thai recipes in our gallery below
Copyright: singabeer.com