We associate Ocean Beach Ibiza with celebrities, champagne, sun and fun but there's also a pretty delicious restaurant on site serving up all sorts of tasty treats to the hungry stars.
Here, Head Chef Luciano Scardaccione Fox shares his recipes for Goats' Cheese Salad and Lemon Mousse so we dine like celebrities from the comfort of our own homes!
Goats' Cheese Salad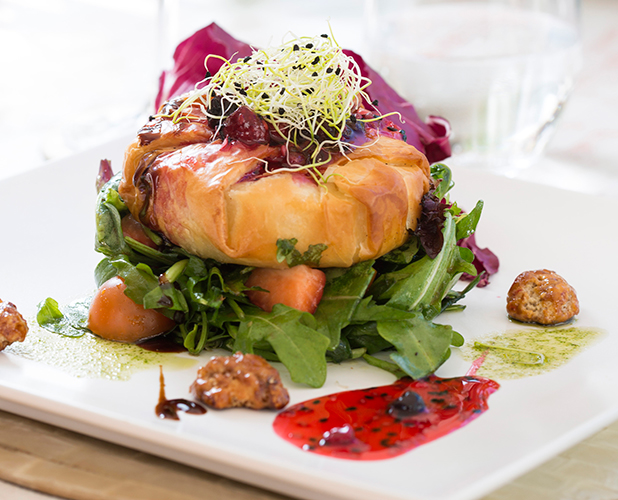 Ingredients
¾ 100g x goats' cheese (sliced)
¾ 3 x Leaves of filo pastry
¾ 10g x Butter
¾ 80g x Rocket
¾ 10g x Red currants
¾ 2 teaspoons x Olive oil
¾ 2 teaspoons x Vinegar
Method:
1.
Cut the goats' cheese with a wet fine knife and cut the filo pastry in square pieces
2.
Cover the pastry with butter and close it like a serviette around the goats' cheese
3.
Cover it once again with butter and cook at 200 degrees until brown
4.
Leave to cool for 10 mins
5.
Meanwhile get a bowl with a generous amount of rocket, add salt, pepper, balsamic vinegar and then olive oil. Mix it up and add the red currants
6.
Add the goats' cheese on top and serve
7.
Enjoy!
Lemon Mousse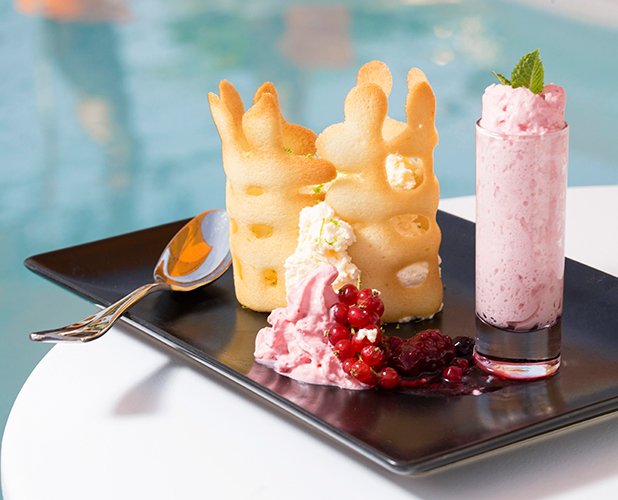 Ingredients
¾ 200ml x Milk
¾ 1 x Vanilla Stick
¾ 4 x Egg Yolks
¾ 40g x Sugar
¾ 2 x Lemons
¾ 3 x Jelly Strips
¾ 200ml Cream (Semi)
¾ 3 x Egg Whites
¾ 20g x Sugar
Method:
1.
Mix together the milk and sugar and heat at approximately 70 degrees – be careful not to boil!
2.
Then add the vanilla stick and 4 egg yolks
3.
Hydrate the lemon jelly with the juice from the lemons, once its hydrated add it to the yolk mix and take off the heat
4.
Meanwhile take the egg white and sugar and whisk until stiff to make the meringue
5.
Carefully mix the cream with the yolk and leave to cool for 2 hours
6.
Once cooled add the red currants
7.
Best served cold with lemon peel and a red currant coulis
Try Reveal 's digital edition On iPhone & iPad. Subscribe now!