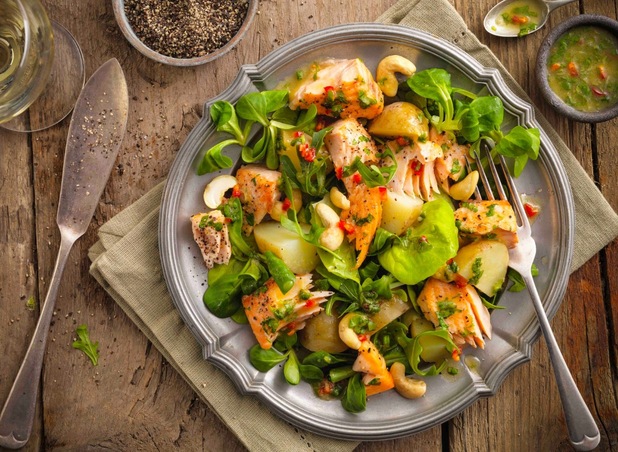 If you're looking for a quick and simple recipe for the summer, look no further than this tasty salmon salad recipe using zesty citrus ingredients.
Ingredients
200g new potatoes
2 salmon fillets (skinless/boneless)
2 tbsp rapeseed oil
2.5cm piece of fresh ginger (peeled and grated)
½ red chilli (deseeded and chopped)
2 tsp lemongrass paste
2 tbsp clear honey
Juice of 1 lemon
Handful of fresh coriander
1 bag mixed salad leaves
60g cashew nuts
Method
1 Preheat the oven to 200°C/Gas mark 6
2 Bring a large pan of boiling water to the boil and add new potatoes. Return to the boil, reduce the heat and simmer for 15 minutes, or until just cooked through. Drain and set aside to cool. Once cooled, cut into halves.
3 Line a roasting tin with a sheet of Bacofoil, dull side up. Place the salmon in the tin and season well with salt and pepper. Cook in the oven for 15 minutes. Set aside to cool.
4 Make a dressing by whisking together the oil, ginger, chilli, lemongrass paste, coriander, honey and lemon juice. Break up the salmon fillets into bite-sized chunks and arrange on two plates with the salad leaves and new potatoes. Scatter over the nuts and spoon over the dressing.
Check out our gallery of salad recipes below.